Dash And Dottie
A brand new series inspired by the Pulp Noir classics of dime novels and films of the 1930s and 1940s, coming to print in 2022 from CRASS FED KIDS and DEANS FAMILY PRODUCTIONS!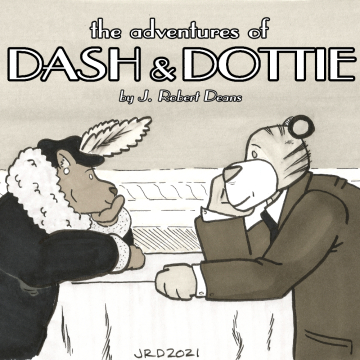 What Are THE ADVENTURES OF DASH & DOTTIE?
DASH & DOTTIE is a brand new series of Noir-inspired mystery short stories by J. Robert Deans, featuring chapter heading illustrations.
DASH & DOTTIE is written for a slightly older audience than BEAR FROM AUNT thematically, for an approximate 10-and-up reading level.
DASH & DOTTIE is Robert's love letter to the film Noir mystery/comedies of the 1930s and 1940s (in particular, The Thin Man series.)
Also inspired by the cliffhanger serials of the same era, DASH & DOTTIE stories will run from 12 to 15 chapters.
DASH & DOTTIE takes place between the 1920s and 1970s.
DASH & DOTTIE does take place in the Grand Punwick world, but is more inspired by our own history, specifically the 1930s through the 1950s.
Chapters will be released on Patreon first to the "Dash & Dottie" membership level, which includes a free copy of the book.
The first story, When Murder Was In Bloom, will release bi-weekly.  Subsequent stories will release weekly, with a break in between stories.
Stories will be collected in pocket-sized paperback collections, featuring two to three stories each, every 12 to 18 months.
THE ADVENTURES OF DASH & DOTTIE debuts on Patreon March 6, 2021 at Noon!
The FREE Preview debuts HERE March 6, 2021!