Have A Cow (Or A Koala)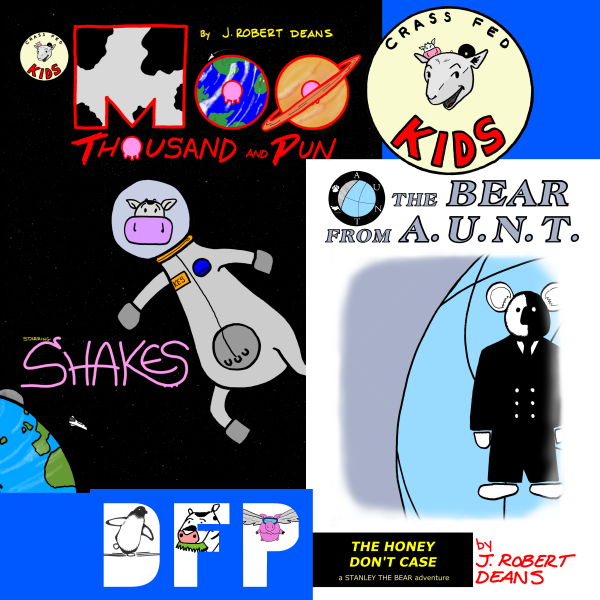 Parents!
We understand how insane this all is. It's an unplanned snow-day with no end date in sight. Plus the added stress of making sure everyone in your house is washing their hands regularly, not touching their face, and bathing.
Which is hard enough when you have teenagers.
So, in an effort to help at least a little bit in distracting your kids a wee bit, we're offering the first book in the Shakes or Bear From AUNT series to you free thru March 31st!
Just go to our Contact page, click on the orange Email Us button, and fill out the email form.  The best subject is "Product Inquiry," but "Comment" is fine, too.  In the message field, be sure to tell us if you want the Shakes book (best for readers 7 and under) or the Bear From AUNT book (best for kids who are just getting into chapter books).
While it's not required, we would appreciate it if you would also click on the "Subscribe to Newsletter" box next to "Send" at the bottom.
If your kids like the book, let us know, either via email, or social media, or – even better – leave us a review on Amazon or Goodreads!  (Those reviews help other parents find our work, which ultimately makes it possible for us to keep making these books!)
Once we have your email from the form, we will email you a PDF of either MOO THOUSAND AND PUN or THE BEAR FROM AUNT: THE HONEY DON'T CASE!
We do ask that you don't redistribute these PDFs, since selling books does keep us going, like all other small businesses in this very peculiar time.
In the meantime, good luck, and stay healthy and safe!
(Note: In case you're wondering why we don't just make the PDFs a free download, sadly the file size to make them readable – while still small enough to email – is still too large to allow unrestricted downloading without overloading our bandwidth limitations, which would shut down our site.  We appreciate your understanding.)