Old Site, New Features!
WEB SITE CHANGES
To make certain aspects of our site easier for new visitors, and to add features and value to our fans, we have made a few changes to our web site structure recently that we hope you will all enjoy.
For example, the old "Books" page is changing dramatically. We will still have a single page with our book information on it, but that information will be more about the technical information, such as size, numbers of pages, ISBN numbers, reading level scores, and more. Essentially, the types of information of greater value to teachers, librarians, and book buyers.
As before, this page can be accessed by clicking on "Characters / Books" from the navigation menu. Currently, the page has not changed, but the new format BOOKS page will be live by September 8, which is when all school districts in the country will have started school.
For Parents, Kids, Fans, and browsers, we have created individual pages for each of our characters and their book series!  You will be able to access these pages one of two ways.  First is by clicking on the character's icon from the "Who's Who in Grand Punwick" image on the Grand Punwick home page as seen below.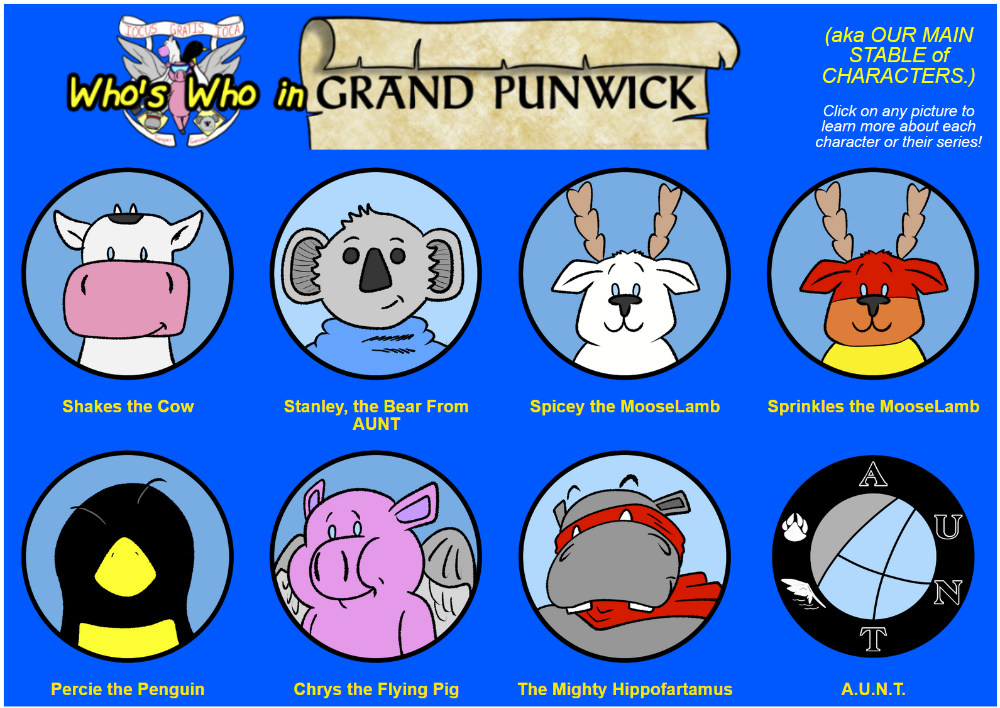 Second is by using the drop down menu from the "Characters / Books" header in the navigation menu at the top of the screen. Your options from this menu are:
Shakes The Cow
Stanley, The Bear From AUNT
The MooseLambs
Steer Your Own Story
Hippofartamus
Percie The Penguin
Chrys The Flying Pig
Other Books
Percie and Chrys do not have their own series, but are as iconic to our character lineup as Hippofartamus, Shakes, and many others, and we thought they deserved their own page, since they will be appearing in many DFP/Crass Fed books over time.
Each character/series page will include brief information on each book and series, plus information on the character. You will also be able to find links related to products featuring that character, as well as links to free downloads, and other information about the character, their creation, and other trivia.
DOWNLOADS PAGE
We are also reworking the DOWNLOADS page and will be adding a LOT of content to it over the next week, and then we hope to add at least one new item to the Downloads page every two weeks.
If you are a parent or teacher, please reach out to us using the email contact button and let us know what sort of things we could add to the Downloads page that would help you!
Currently, we plan to offer "How to Draw" guides, coloring and activity pages, book samples, and the occasional free story.
YOUTUBE CHANNEL
We have also added a link in the navigation bar to our YouTube channel, which features short videos on how to draw our characters, plus drawing videos of creator J. Robert Deans drawing Grand Punwick characters as other characters.  Thank you in advance for sharing and subscribing to the channel.  New videos will be added on a roughly biweekly schedule.
Access the channel via the icon in the navigation menu, or by clicking this link.
BOOKS IN OUR SHOP
Unfortunately, due to rising printing costs, and fluctuations in postal rates and reliability, we are unable to offer fast shipping on our books without charging Priority shipping rates, which brings the costs of our books to at least $10 over retail.
While we would appreciate your supporting us as a small business, we also understand the economics of the time.
If you are looking for our books and do not need autographed or remarked copies, we ask that you purchase our titles (and any of the titles we recommend via Robert's ICRVN Blog) through Bookshop. Bookshop is a new web site that acts as an intermediary between the printer and the customer, much like Amazon. However, where Amazon offers large discounts to cut costs and pass on profits to their owner, Bookshop offers small discounts, and shares the profits between the authors and a community chest. That chest is split between any and all independent bookseller signed up for Bookshop's profit sharing program.
DFP is signed up as an affiliate, which means for every book sold through our affiliate page, we receive ten percent, which helps us "keep the lights on," so to speak.  Which translates as paying the internet hosting bills.  The extra ten percent going to independent booksellers doesn't hurt, either. To date, Bookshop has raised over $6 Million for their Independent Bookseller Community Chest.
TL;DR
We hope you will enjoy our new web site features: New pages for each book series and major character, accessible from the navigation menu. We also hope you will share our YouTube channel, and support us and independent booksellers via our Bookshop affiliate link when buying books. Please reach out with suggestions for our Downloads page, too.
Stay safe!
~ DFP