Win a Copy of THE HONEY DON'T CASE: A Bear From AUNT Adventure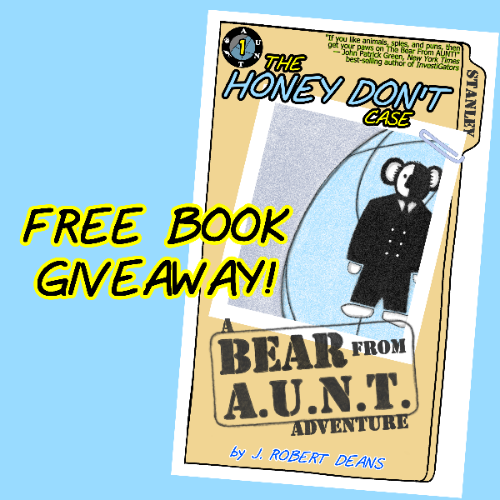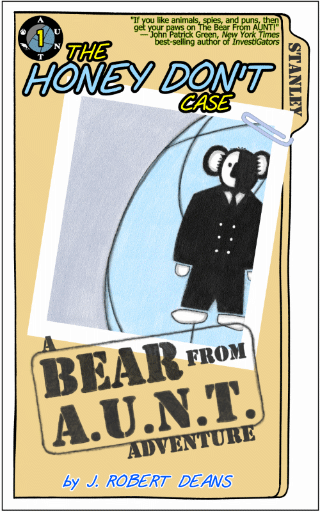 We are giving away TWO copies of THE HONEY DON'T CASE: A BEAR FROM AUNT ADVENTURE to celebrate the release of the book on October 20, 2020! Want to try and win one? Sure you do!
However, I'm sure you understand that we would REALLY appreciate it if you pre-ordered a copy at your favorite bookseller. Pre-Orders and actual book sales really help us out as small business owners.
You can win yourself a copy of the newest Crass Fed Kids / Deans Family Productions release by doing one of the two things below!
Contest For Fans 17- and-Under:
Write a review of one of our earlier releases (listed below) and have your parents post it online!  Our favorite review will win a signed copy of the book AND a free sketch from Robert!
Reviews may be:
written and posted to your parent's Facebook page (please make them public posts), or from your parent's Amazon account to the page of the book being reviewed.
a video posted to your parent's YouTube page for public sharing.
Make sure to have your parents tag @DeansFamilyProductions in any Facebook post you make!  If your review is posted to Amazon, your parents MUST email a copy to us to be considered.  (Use the email button below.)   For video entries posted to YouTube, email us the link to the video, which must be public.
For ALL entries, please do not post reviews with personal information beyond your child's first name and age.
NOTE FOR PARENTS:  We understand that this is a stressful time, and we do not wish to add to your child's anxiety.  This is meant to be a fun contest.  While we expect more well thought out entries from older children, we want to encourage your children to be as honest and silly as possible.  If they love the Shakes books just for the goofy art, that totally counts as a review – but because we just said it we may not grade that on its own as a review that highly.  You get the idea.
BOOKS ELIGIBLE FOR REVIEW ARE:
SHAKES BOOKS: Moo Thousand and Pun; Temple of Moo'd; Moo Fast, Moo Furryous; Dream a Little Dream of Moo; La Moo Du Chocolat
MOOSELAMB BOOKS: Spicey's Tale; Sundaes In The Park With Sprinkles
OTHER BOOKS: Steer Your Own Story – The Mystery of the Flying Pig
Sweepstake For Parents and Fans 18-and-Older:
You have two options to choose from, as our selection process will constitute names that fit EITHER of these two groups:
OPTION ONE:  Follow/Like us on ONE of the following platforms AND subscribe to our Email Newsletter.  Eligible social media platform accounts are:
JRobertDeans on Instagram
GrandPunwick or JRobertDeans on Twitter
JRDcartoonist or DeansFamilyProductions on Facebook
(Use the buttons below to go to each social media site)
OPTION TWO:  Forward the email newsletter with this contest information to at least ONE person not currently or formerly on the email list who then becomes a subscriber.
The contest runs October 7 through October 21, 2020. Winners will be announced on November 1, 2020.
As the Taskmaster says, your time starts…NOW!
TERMS, RULES, and CONDITIONS



No purchase is necessary for entry or to win.

Contest AND Sweepstake are open only to residents of the United States and Canada, 18 years and older, acting as legal guardians for children providing reviews.

Any information collected by Deans Family Productions (DFP) for this contest will NOT be shared to ANY third party, except for the sole purpose of delivering prizes. (As no information is collected, requests for the lists of winners will not be honored, however, the winning adult's name will be listed publicly on our web site.)

Principals of DFP, and their relations, as well as the judges and their family members, are not eligible for either the contest or the sweepstake.

You must be born BEFORE November 1, 2002 to POST an entry for this contest. All review entries must be posted by the parents or legal guardians of the creators of the review.

Reviews must be original and are subject to the rules of conduct governed by the platform upon which the review is posted. Reviews will be judged and chosen by the three principals of DFP, Northern Virginia businessman and father Thomas McKeon, and writer/artist Jamar Nicholas, creator of Leon: Protector of the Playground, due 2021 from Graphix/Scholastic.

Sweepstake winner will be chosen by random selection. A list will be generated of all people meeting the eligibility requirements, and then a number assigned to their name. A number will be generated via randomizer at random.org, that number will match a name, which will be the winner of the sweepstake.

If somehow both winners are from the same household, the review contest winner will stand, and another number will be generated for the sweepstake.

The winners will be announced on the J. Robert Deans and DFP Facebook pages, and in a post on the DFP blog. Reviews may be shared as part of the announcement. Winners' names and ages will be posted, but no other personal information will be revealed. Winners will be contacted between November 1 and November 7, 2020. Prizes will ship by November 13 for delivery by November 20, 2020.

For entries relying on social media account follows and subscriptions:
• You must be a follower on Twitter/Instagram or have liked a Facebook page before October 21, 2020 and remain so at least through the end of the contest.
• Unfollowing or unsubscribing after the winner is announced but before your prize has been delivered will disqualify you, and a new winner will be chosen.