Making Pigs Fly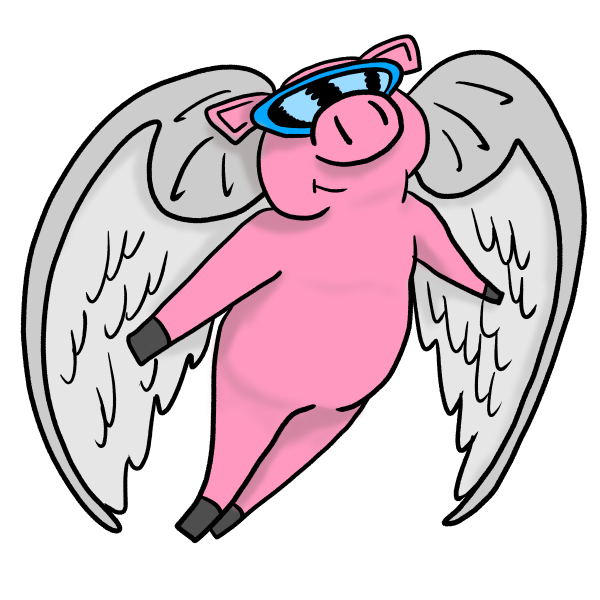 2019 (technically, February 5, 2019 to January 24, 2020) is the Year of the Pig in Chinese Astrology.  Beyond what you may find on a placemat, it is specifically the Year of the Earth Pig.  Pigs are considered diligent and compassionate, qualities we would like to think we share.  As it is the year of the Earth Pig, which is communicative and popular with friends, and makes projects a reality through savvy business skill and vision.
The year of the Pig leads into the renewed cycle of the 12-year Zodiac, starting January 25, 2020 with the Year of the Rat, which hopefully will bring luck.
Now, for the most part astrology is not my thing, I find most of it silly.  Chinese astrology, however, is based less on mysticism than traditions, legends, and familial beliefs.  So, I don't put much more stock into it, but I do like some of the historical traditions and following some of them can help me plan.
If you've followed my journey as a children's book author, you will have noticed that in certain situations in the Shakes books, there has been a blimp in the background. That blimp is based on my wife's logo for her former site, Flying Pork Productions.  While the food blog is on temporary standby while her toy business is in full swing, that goofy pig is always on our minds.
Chrysaur the Pigasus started as a logo, but now, given this is the Year of the Pig, it's time for Chrys to join Grand Punwick properly.
Debuting this month is the 13th storybook published by Deans Family Productions, THE MYSTERY OF THE FLYING PIG: A Steer Your Own Story Adventure.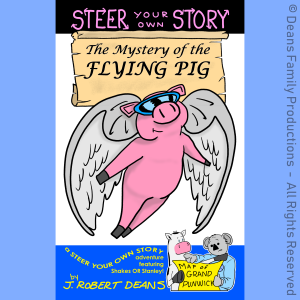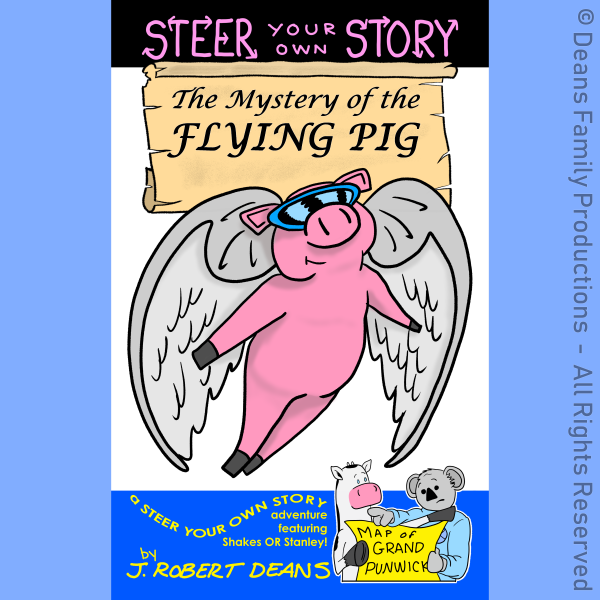 MYSTERY OF THE FLYING PIG is a solo-role-play game book in the style of the "Choose Your" books popular in the 1980s.  Because of copyrights and my love of a good pun, however, this book is the first of a series called "Steer Your Own Story."
In this book, you read along and at the end of certain sections you have to choose which direction you wish to go in the mystery.  For this first adventure, however, there is an additional twist: you also get to choose your character!
Well, from a pool of two, at least.  You can either read and play as Shakes the Cow, or as Stanley, the bear From AUNT.  Once you have made your choice, the adventure begins!  There are several threads to follow (or ignore), leading to more than 15 different endings, resulting in several opportunities to read the book and enjoy a completely different adventure each time!
Also appearing in the story are Percie the Penguin from both the Shakes and Bear From AUNT series, and Stanley's AUNT cohorts Marco, Director Leo, Tyler, Frank, and Hortie.  This book is also the first book to really introduce Grand Punwick, as well as a couple of its landmarks.  As the various DFP book series continue, Grand Punwick will grow as its own character, much like Gotham or Metropolis.
But, as we have built up to it, this book is more important for giving Chrys her own place in the growing saga of Grand Punwick, as yet one more friend for Shakes and Stanley to rely on.
The book will be available at our tables during the following appearances:
Comic Con For Kids, October 12 and 13, Greater Philadelphia Expo Center, Oaks, PA
Baltimore Comic Con, October 18-20, Baltimore Convention Center, Baltimore, MD
HalloweenFest, October 26th, Comic Logic, Ashburn, VA
I will also be appearing on the Facebook web show Ye Grumpier Ol' Nerds Thursday, October 3d, at 630p, and through chat you can ask questions about FLYING PIG, or anything else about our work.
We hope this year has been a decent one for you, and if the Chinese horoscope is to be understood, leading to a more prosperous and successful 2020.  For us, we hope you enjoy the book, and it gives you a little respite from the craziness of this year, as you work towards your next success.
Cheers!