New Bear From AUNT Book Debuts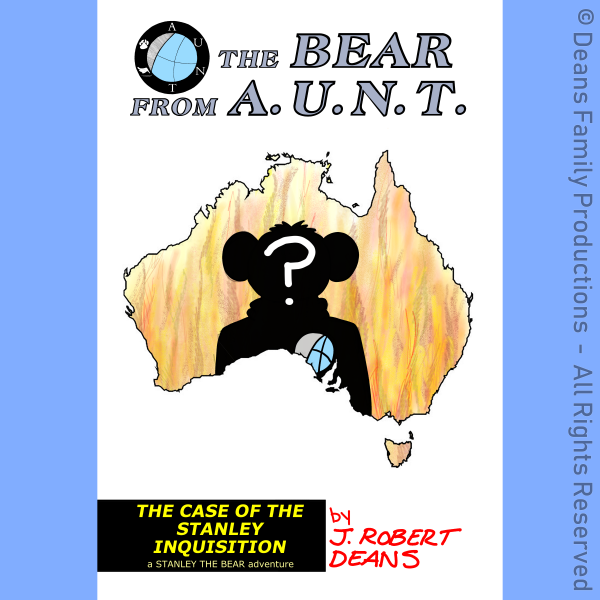 My new book, The Bear From AUNT: The Case of the Stanley Inquisition, is at the printer and the physical proof should arrive shortly. It is set to debut at booksellers on March 3d.
The ongoing Australian bush fires provide a backdrop for the book's conflict and setting. AUNT heads to the continent to assist local forces in fighting the fires, where Percie has been for some time. When it is discovered that Stanley had been there on holiday and has gone missing, Percie is assigned to find him.
Like the other Bear books, natural disasters and other issues of the day are woven into the narrative in hopes of sparking young readers' interest in the causes of these issues. While a fiction book can't provide solutions, I hope the readers will be encouraged to think of new solutions to these problems that our elected officials prefer to ignore.
In addition to encouraging young minds, I am also working on a way to use sales to generate funds for charities in Australia working to aid in the recovery efforts on the continent.  While the standard hardcover will be on sale shortly via booksellers, I have a special limited edition available in the DFP shop with pre-orders being taken now.  The edition includes a double sided dust jacket/poster unique to this offer.  Customers can order the poster/dust jacket on its own, the limited edition book with jacket, or one of three "Complete Bear" packages.  This "Complete" package includes all five Bear From AUNT books, two of the poster/dust jackets, and an original drawing of the purchaser's favorite AUNT character.
Proceeds from these special offers from the DFP shop will be split between the Red Cross of Australia, WIRES, and the World Wildlife Fund.
Below is the first real chapter of the story as a preview:
You can purchase the special edition versions by clicking HERE.  The regular edition will be available from March 3d at booksellers everywhere.