ICRVN Review: Bites of Terror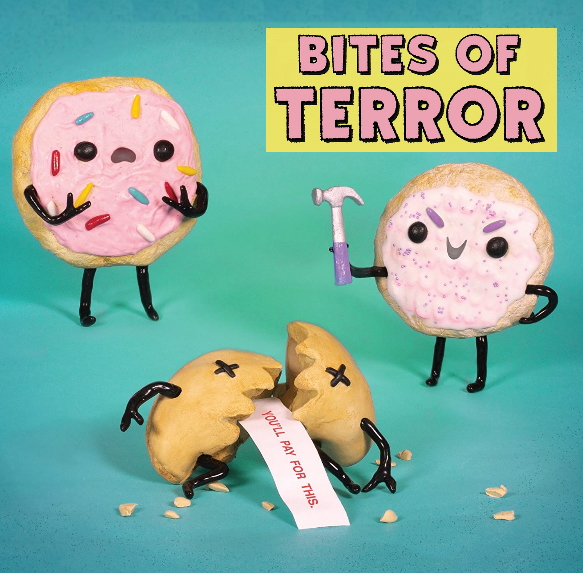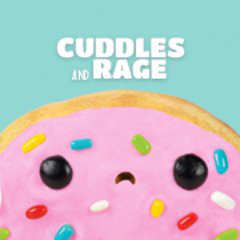 If you've attended a small press comics convention or art show in the northeast or mid-Atlantic region, then you may be familiar with the dynamic duo of Cuddles and Rage. Cuddles and Rage are really Liz and Jimmy Reed, although you never really know which one is Cuddles, and which is Rage.
Cuddles and Rage quickly developed a reputation for the most adorable creations, both in comics and in clay, with a twist. That twist was their quirky, twisted sense of humor. Liz and Jimmy were raised on a somewhat (un?)healthy diet of thrillers, chillers, and horror, and their early work reflected those influences.
Comics like Dr Taquito, a book of cooking tips featuring a somewhat psychotic taquito who would be right at home in a food-based thriller remake you might call "Silence of the Hams," or Santaconda, about a giant snake who comes down the chimney on Christmas Eve…and eats the children.
I have a few friends who write horror, and generally they are some of the kindest, sweetest people you will ever meet. And Liz and Jimmy fit that bill. So much so that recently Harper Collins signed the couple to create two children's books featuring their amazing diorama work.
Sweet Competition and Sweet Success are amazing books that help teach lessons of perseverance and teamwork to children using adorable clay sculptures of fruit and ice cream cones. The books were successful, but it would seem that creatively, Liz and Jimmy missed their roots.
Their deliciously twisted and creepy roots.
The result is Bites of Terror. Published in March of 2020, Bites is an anthology of short horror stories using the classic fumetti style that began as early as the 1940s, and popularized in the 1970s by such publications as National Lampoon and Help!
Not only have Liz and Jimmy embraced the fumetti concept over time, they have elevated it and transformed it, making it their own. Liz is a staple of the interwebs with wonderful short video tutorials about how to make many of their fun creations, like fried egg magnets, milk cartons with angry eyebrows, and the signature character of Bites, The Cake Creeper.
A selection of artwork from Bites of Terror. Artwork © 2020 Cuddles and Rage. Click on the image for a larger version.
Inspired by both the Crypt Keeper of Tales From the Crypt, but with a little Rod Serling and Alfred Hitchcock for good measure, The Cake Creeper provides us with the narrative structure for the book. Bites is not just an anthology, it is an evening around a virtual campfire in which the Creeper tries to seduce a young passerby looking for help. It doesn't take long for you to know where this will be going, especially if you've seen enough horror films.
The book, and the narrative, are broken into three sections: Starters, Mains, and Desserts. Naturally. Stories about fruits gone off, pizza parties doomed from the start, and what the afterlife really means for your perishables, all told with a twist of the lip and a gleam of the Cake Creepers' lone eye.
Or perhaps his assistant, Eyevon.
If you remember the Tales From the Crypt show, then you know the Crypt Keeper was prone to puns. Cuddles and Rage are no different. Which may be why I love their work so much.
Full disclosure, I've been lucky to know Liz and Jimmy for a while now, and be more lucky to call them friends. The irony here is that I don't like horror as a genre. Never have. But I adore this book, and not just because my friends wrote it.
The book is more rooted in a PG-13 sense of horror, where the thrill and suspense is where the true horror lies. Liz and Jimmy show you quite a lot (poor Marge!), but are such smart and skillful storytellers that they still leave some to the imagination. Hitchcock said (and I am paraphrasing) that the more that is left to the imagination, the better the suspense.
Liz and Jimmy have crafted a wonderfully comic suspenseful and fun horror graphic novel that will entertain anyone who has watched Twilight Zone or Tales From the Crypt, watched a horror or suspense film, or just wondered what in the world happens…
When food really goes bad.
Bites of Terror is available from retailers everywhere in a digital version, and in paperback.
The ICRVN is an affiliate of, and recommends, Bookshop.Org for physical purchase, where a portion of every sale goes towards keeping small, independent bookshops open.
(Note: While Bites of Terror does not list specific age recommendations, I would suggest parents of children younger than eight review the book first before giving it to younger readers.)