ICRVN Review: Investigators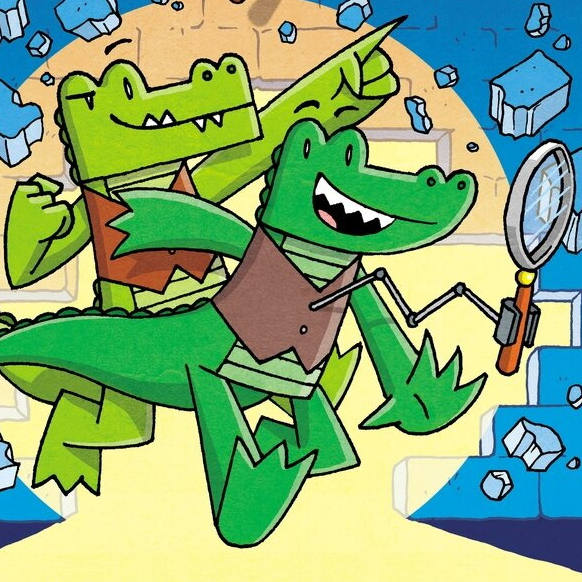 Last week I reviewed a book that was brilliant, entertaining, and socially significant. This week, I am happy to say the book I'm reviewing lacks one of those three characteristics.
While INVESTIGATORS is very entertaining, and I would argue brilliant, it is not as heavy, thankfully, as the book about fighting Nazis I reviewed last week. Which, as we progress further and further into our sequestration, is refreshing. Sometimes, you just need a fun bit of silly, and John Green delivers just that.
Now, this is not the John Green of the faulty stars. This is John Patrick Green, of Kitten Construction Company, Hippopotamister, and the Instagram feed full of delicious-looking food he's made that he is unwilling to drive several hours to share.
I can't understand why.
However, the hours he seems to save delivering food he is able to use to create amazing and very humorous graphic novels for readers young and old. I say old because I am old, and I loved INVESTIGATORS.
So much so that it kind of ticked me off, because I wish I could make a graphic novel this witty, smart, and crisp. The jokes are built up in so many ways – some over a panel or two, others over dozens of pages – that you never know what's coming. The mystery is just right for a young reader, with just the right amount of absurdity for an adult to enjoy as well.
SUIT agents Mango and Brash are introduced to the reader as they receive their newest case, investigating the disappearance of the celebrity pastry chef Gustavo Mustachio. Their investigation soon takes them all across town – and under it, naturally – from Mustachio's bakery to the biggest scientific think-tank in town.
And all along the way readers are treated to some very well-crafted jokes and puns, and a clever and very silly mystery. Adults reading this book may actually get more out of it than kids, given the number of references directed towards our nostalgia.
You needn't look any further than the names of our two protagonists, which should immediately remind you of a certain 80s buddy cop pairing. If not, don't worry, Green includes enough references and gags to keep readers young and old in giggle-fits throughout the book.
One might think all the humor was intended to cover a lack of plot or poorly thought out mystery, but that just isn't the case. Green himself is very funny, and his works reflect that sense of humor. Green is also very smart and quick, and his stories reflect that as well, and the mystery and plot follow those qualities. Plus…it's a bit bonkers. Wonderfully so.
Unfortunately, to discuss it further would reveal too many of the gags and the big reveal. But, if you appreciate 80s films and culture, you'll probably see where some of the gags are leading. Even if you don't, you will enjoy the ride no matter what.
Cover and pages from INVESTIGATORS by John Patrick Green. Click for larger images.
Green's INVESTIGATORS is one of those rare graphic novels that truly epitomizes what I think of when I think "All Ages." In my years as a retailer, I constantly had to educate customers who equated "All Ages" with "infantile."
"All Ages" books are intended to be enjoyed by any reader no matter what age or reading level they may be. Books that epitomize "All Ages" are also timeless. I can enjoy them, and know that my child will, and eventually my grandchildren, and generations beyond will too, regardless of the age at which they read the book.
Green is a masterful storyteller, deceptively nuanced when his work seems simple. His art is clean and engaging, his book layouts crisp and lending themselves to a flow that never detracts from the narrative. The lettering is clean and dynamic, and the colors are fresh and vibrant, which would have been difficult in the hands of another team, given the subject matter.
John, aided by a talented team including editors Calista Brill and Rachel Stark, Colorist Aaron Polk, and flatters Christine Brunson and Robin Fasel, has created a wonderful book that I simply cannot recommend more highly. It is engaging, delightful, silly, and clever.
And I really…REALLY…wish I had made it myself. (And those aren't crocodile tears.) INVESTIGATORS by John Patrick Green is available from bookstores and comic shops everywhere.
.
INVESTIGATORS by John Patrick Green is available from bookstores and comic shops everywhere.
The ICRVN is an affiliate of, and recommends, BOOKSHOP.ORG for the purchase of physical copies. A portion of all sales goes towards a fund benefiting family-owned bookstores nationwide.
Click on the banner at right to locate a Comic Book Shop.