Ten Dollar History Lesson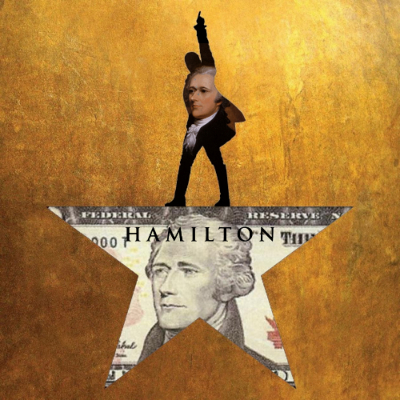 (Or, Hey Buddy, Can You Spare A Tenor?)
I caught up with most of the country recently and watched HAMILTON, thanks to the filmed performance available on Disney+.  I found it interesting and enjoyable, and could see what most young people loved about it.
For the most part, it's not "your father's theater," which is a simplistic way of addressing its use of modern musicality to tell its story.  Hamilton has a reputation for being a "Rap Musical" when in fact Rap makes up maybe a quarter of the musical style.  The score and song style draws from all of music's history: Jazz, R&B, Soul, Rock, and the aforementioned Rap.  All are intertwined nicely and used perfectly for their chosen scenes.
Another way in which this production has appealed more to younger fans is its cast.  Hamilton is unapologetically non-white with one exception.  This race-bending highlights the many ways in which history is perceived by people generations after the fact.
Christopher Jackson is a physically imposing actor, and embodies the characteristics that history constantly talks about when discussing George Washington, Jackson's character in the play.  Tall, demanding, thoughtful, and very intelligent.
Hamilton addresses the notion that anyone can play George Washington – or any founding father – after elementary school.  Skin color does not matter.  Skin color should never matter.
The cast is brilliant overall, both in their acting and singing, it's an amazing ensemble, and I would love to see other recordings to see how the touring companies compare. Particularly in their comic timing, which was always subtle but spot on.
Daveed Diggs was amazing as both Lafayette and Thomas Jefferson, playing both with a perfect flamboyance fitting their reputations and a comic overacting that gave natural humor to every scene in which he appeared.  His vocal abilities were on point, adding a French accent (exaggerated without being overtly offensive) to his Lafayette in the first part of the play.
Aside from a couple of the ensemble members, there is just one white cast member, which I imagine was a specific choice: Jonathan Groff as King George.  Groff is brilliant in his roughly 7 minutes of stage time, perfectly cast, imbuing his George with humor and that required sense of madness.  Groff also stands out on purpose as the lone symbols of both imperialism and whiteness.
Lin Manuel Miranda has written a fantastic summary of Alexander Hamilton's life, and converted it into an engaging, energetic, and powerful play.
Unfortunately, he also fell into the pitfalls that many historians tend to fall.  Historians write with a bias whether they intend to or not.  Miranda found in Hamilton a kindred spirit: a fellow immigrant who fought for his opportunities when others wouldn't give him a chance.
It's an admirable start to the story, but where Hamilton strayed was allowing the chip on his shoulder to influence his decisions. Hamilton made many mistakes both personally and politically that have affected the country even today. I hope that the enthusiasm young fans have for the play encourages them to learn more about the history and not just to memorize the lyrics.
Hamilton was also a passionate man who was more often than not guided (or influenced) by those passions. We see several times how Washington tried to temper Hamilton and get him to use his mind rather than his heart.
In politics, passion can help, but only when tempered with a cautious and well-honed mind.
Luckily for Miranda, arts are fueled by Passion.
There are still missed opportunities in the play, one especially given the unique production.  Hamilton quickly makes friends with three men: Hercules Mulligan, John Laurens, and Marquis de Lafayette.
These four men were also noted in history to be abolitionists, a fact only touched on in one line sung by Phillipa Soo as Eliza Hamilton near the very end of the play.  In a play written for a racially-swapped cast, I would have thought the four protagonists' work against slavery would have played a greater role.
Again, that is a quibble – my quibble – as someone watching Hamilton for the first time in an era where we still find ourselves dealing with the scourge of racism.
The timing of the play's ascendancy to worldwide popularity – 2016 and 2017 – made Miranda's focus all the more important:  Immigrants get the job done.
Which is a far better message, more human and humane message, than locking them into cages.
.
Hamilton is available on the Disney+ streaming service until further notice
.
You can find books related to HAMILTON on our Bookshop.org Affiliate Page.  We receive a small stipend from books purchased through this page, which go towards our web and hosting costs.  Thank you in advance!