Remembering Mike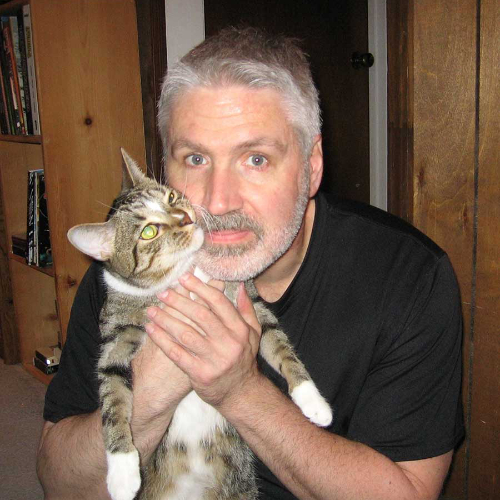 This piece ran three years ago in an earlier version of this blog. I could write another version, with new art, but, every time I write about Mike Wieringo, I am never able to add to the discussion, whereas Mike was always able to add more to the artform with every line.
Thank you for everything, Mike.
We will always miss you.
.
REMEMBERING MIKE
Originally published on icrvn.com, August 12, 2017
(Images reformatted for this post)
Today marks the tenth anniversary of the passing of Mike Wieringo, a well-loved and -respected artist for Marvel, DC, and many other publishers. In a time when the "Image Style" of flashy, over-rendered comics were in vogue, Mike maintained a style that was dynamic, fun, and full of life. Dare I say, "cartoony," which most fans today use as a pejorative, not realizing that cartoons and cartoony art is what got them into the medium when they were children.
As Image was growing, much of my interest in comics was shifting. I was intrigued by the work of Lee, Larson, McFarlane, and even Liefeld, but that wore off quickly. Pinups are fine, but in an almost purely visual medium, storytelling is key.
And in that regard, Mike was a master locksmith.

I fell in love with Mike's art from the beginning. His work reminded me of another Mike, Parobeck, who had made a name for himself at DC drawing the Batman Animated Series tie-in comic, and the short-lived JSA book that just happened to feature my favorite team. Parobeck also infused his work with fun, life, and a seeming simplicity that belied a real gift for storytelling.
One day I was at work at the local video shop, and a fellow came in to pick up a reserved movie, and his ticket read, "Wieringo." I asked if he was related, and the gentlemen smiled and said, "he's my brother." Matt Wieringo and I chatted for a few moments while I rang up his purchase. Matt confirmed that his brother was also a fan of Parobeck, and for some reason, that made me appreciate Mike all the more.
Mike would go on to draw some of comic's greatest icons: The Flash, Superman, Batman, Wonder Woman, The Fantastic Four, Spider Man, and the X-Men. Mike was one of the very few artists that if his name were in the credits – even if it were just a cover – it would cause me to buy the book no questions asked.
Social Media had not yet exploded into the global consciousness, but Mike posted art and thoughts almost daily on his blog (still available intact at mikewieringoart.com), and a couple of times he and I exchanged quick greetings in the comments on a post.
Ten years ago today, I was looking up something about Mike, and one of the first things to pop up was news of his passing.
A couple of years later, I attended Baltimore Comic Con with a simple goal: find Todd Dezago and Matt Wieringo. Todd had interviewed Mike for a book, Modern Masters, and I asked them to sign it, and thanked them for their continued work in keeping Mike's legacy alive.
I retold the story of how we met to Matt, and we chatted for a while about Mike, and about Matt's work. At the next table, Todd was delighting my Kidlet with goofy antics, all in Todd's high-pitched "Choopie" voice from his character in the Perhapanauts. My Kidlet was hooked.
It's been seven years since I attended that show. Matt and Todd have become friends, and we often talk about Mike, from his techniques, to his spirit, to his energy and compassion. In those talks, Mike is still alive.
Sometimes you can tell how much one artist is influenced by another. Take Jack Kirby's influence on Erik Larsen for example. Other times, it's harder to find in an artist's work.
I draw goofy animals in silly situations, and unpolished at that. But while you may never see it reflected in my work, Mike Wieringo is a big reason I am drawing today.
In a time when I would surely have given up on the medium, Mike's work kept me engaged, and gave me hope that bright, fun, four-color adventures could still be had at 22 pages a pop. Mike's work helped elevate my relationship to comics from fan to "I want to do that."
It's been nearly 24 years since I first found Mike's work in a comic.
It's been ten years to the day that we lost his talent.
But his spirit, his joy, and his sense of fun live on. And if I can convey even a tenth of that in my own work, then I am on the right track.
I can say with some certainty, as I approach my second Baltimore Comic Con as a guest creator, I would not be where I am without Mike Wieringo.
Thank you, Mike, for everything.
We miss you.
.
Postscript
The year I wrote this, I was able to draw Mike's characters for the Baltimore Comic Con Yearbook.  Drawing the Tellos characters, which meant so much to Mike and their co-creator Todd Dezago, was a daunting task, because of how much Mike's work meant to me.  To this day, I wonder what Mike would have thought of my interpretation, and what he would have thought of this weird cow and penguin running through his world.  I can't say what he would have said of my art, but I think he would have appreciated the humor of it.