ICRVN Presents: Bat Madness…Week Four!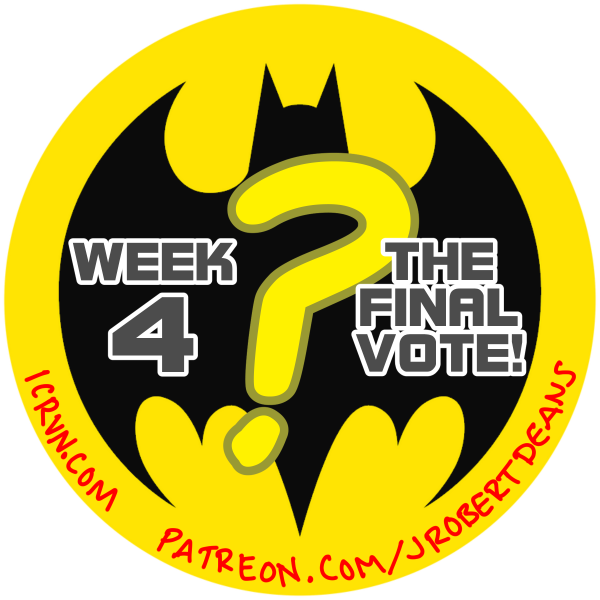 This is it!  The BAT-CHAMPIONSHIP!
Last time on BAT-MADNESS! We revealed the Bat-Final Four! They were:
Don Newton Group Winner: Adam West, 1966: The iconic Caped Crusader took down the surprising round one winner Lewis Wilson in a clean sweep.
Jim Aparo Group Winner: Kevin Conroy, 1992: The Animated Series VO legend took down everyone's 1989 favorite, Michael Keaton.
Bill Finger Group Winner: Diedrich Bader, 2008: Brave and Bold's Bat bested George "Remember me from E.R., please" Clooney.
Neal Adams Group Winner: Bruce Greenwood, 2010: The Gotham By Gaslight Knight defeated Christian Bale.
And their "Final Four" pairings: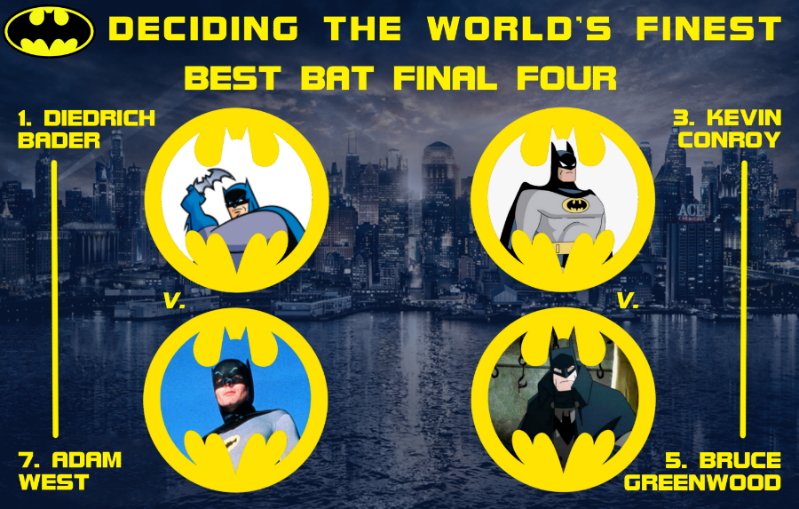 Diedrich Bader (1) versus Adam West (7)
And
Kevin Conroy (3) versus Bruce Greenwood (5)
So, what were the ICRVN choices?
West Over Bader:  Bader is outstanding, but part of his inspiration for his version of Batman is Adam West.  'Nuff said.
Conroy Over Greenwood:  In a battle of VO Bats, there is simply no other choice than the man who literally reinvented the character.
What about the Patrons choices?  Seriously, do I really need to reveal the results?  We all saw this coming.  And it was a clean sweep across the board.
So, for all the Belfry, Patrons will vote to determine who the Best Batman in media really is: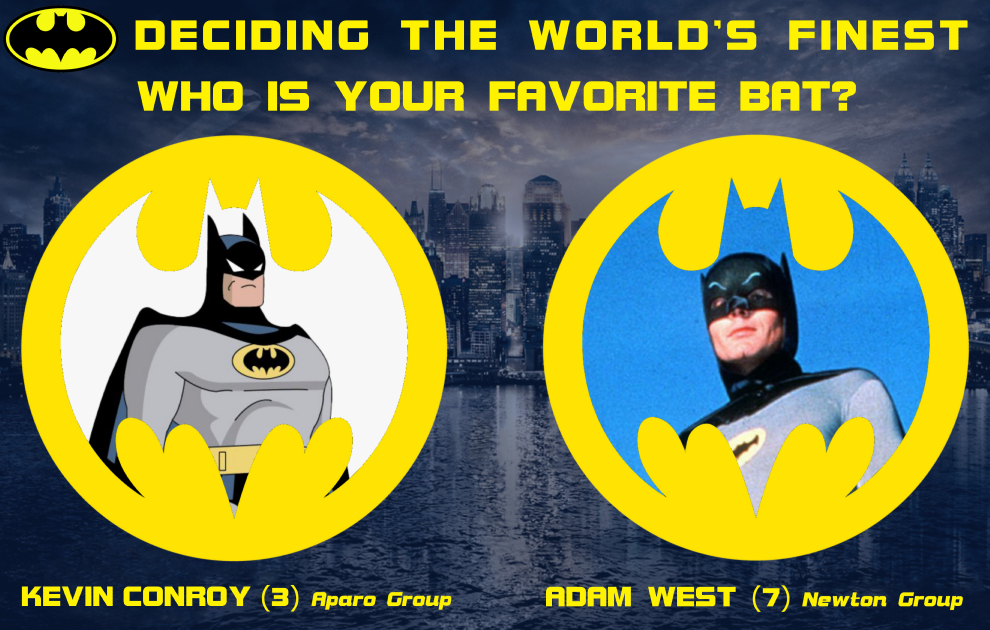 Is it Adam West or Kevin Conroy?
Voting begins at 5pm over on patreon.com/jrobertdeans for all Patrons at the "Early Access" level or above!  And remember, ALL voters have a chance for a Bat-Commission, so if you only join to vote, stay a member through October!
.
Forthcoming Schedule:
Wednesday, Sept 30, Noon: "Bat-Champion" Post goes live on ICRVN.COM.
Wednesday, Sept 30, 5pm: "Bat-Champion" Poll Email Sent to Patrons.
Saturday, Oct 3, 11pm: Deadline to join Patreon at "Early Access" Level to vote.
Saturday, Oct 3, 11:59pm: "Bat-Champion" Poll Expires.
Sunday, Oct 4: Votes counted, Final Post prepared.
Monday, Oct 5, 3pm: Patrons sent ICRVN Bat-Madness "Bat-Champion" results.