ICRVN Presents: Bat Madness…Week Three!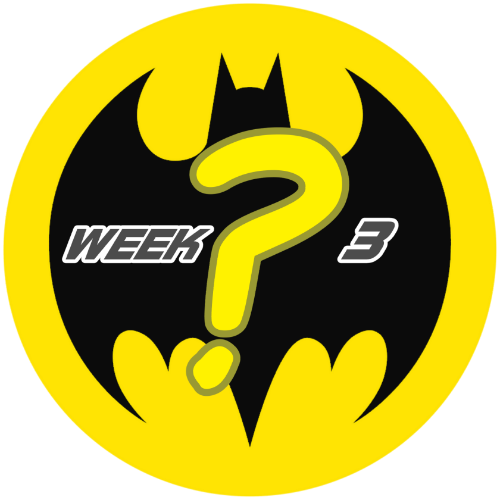 Last time on BAT-MADNESS! eight Batman actors escaped the clutches of a dastardly plot! But…WHICH 8? Stand by, Bat-Fans!
Here are the eight Bats, with their original round-of-16 ranking in parens…
Lewis Wilson, 1943 (2): The first actor to don the cowl in the Columbia serial, Batman.
Adam West, 1966: (7) The famed TV Caped Crusader.
Michael Keaton, 1989 (11): Two films, and thirty years of nostalgia.
Kevin Conroy, 1992 (3): The longest tenured Bat in the belfry, from the Animated Series.
George Clooney, 1997 (9): A better Bruce than Batman.
Christian Bale, 2005 (13): Three films, a lot of throat lozenges.
Diedrich Bader, 2008 (1): Merged West and Conroy for Batman Brave and Bold.
Bruce Greenwood, 2010 (5): Bats in Gotham by Gaslight and the Young Justice series.
And how they matched up in their "Elite Eight" pairings:
Bill Finger Group: Bader (1) v Clooney (9)
Don Newton Group: Wilson (2) v West (7)
Jim Aparo Group: Conroy (3) v Keaton (11)
Neal Adams Group: Greenwood (5) v Bale (13)
Second round voting was light but did provide a surprise, which I will get to shortly. First, though, …what were the ICRVN picks?
ICRVN VOTES:
Bader Over Clooney: I liked Clooney's Bruce best of the three in that series of films, but Bader's VO acting – and the overall quality of the Brave and Bold series – makes this an easier choice than expected.
West Over Wilson: I love the serials. They were my first onscreen Batman. But West is still my favorite.
Conroy Over Keaton: If I liked Tim Burton, this might have been a more difficult choice.
Greenwood Over Bale: This one was easy. First, the Adams group is the weakest of the bunch, and Greenwood is just a far better actor. And voice.
So…what were the Patreon Voting results?
Diedrich Bader (1) Over George Clooney (9)
Adam West (7) Over Lewis Wilson (2) (Clean Sweep)
Kevin Conroy (3) Over Michael Keaton (11)
Bruce Greenwood (5) Over Christian Bale (13)
I didn't have to remove my votes from any results, even though my votes resulted in an even number of voted.
Adam West was the only clean sweep, and even with my votes, the one surprise was Bruce Greenwood, who beat out Christian Bale handily. My guess is the voice really does matter.
So that brings us to the "Best Bat Final Four"! Patreon members at the "Early Access" levels or above will choose between the following two pairings:
Diedrich Bader (1) versus Adam West (7)
and
Kevin Conroy (3) versus Bruce Greenwood (5)
(I am amazed only one live action Bat made it to this round – and it wasn't Keaton.)
So, who will be in the last round to determine the best Bat in the Belfry? You're going to have to vote to make your favorite known! And don't forget, you can join any time up to 11pm Saturday night to get your vote in on time, and you will still get your name on the list for that 8×10 commission, so make sure you stay a Patron through the end of October!
Voting begins at 5pm, so keep a lookout for that poll and let us know who you think is the Best Batman! Until then, we'll see you here at the same Bat-time, same Bat-site!
.
Forthcoming Schedule:
Wednesday, Sept 23, Noon: "Final Four" Post goes live.
Wednesday, Sept 23, 5pm: "Final Four" Poll Email Sent to Patrons.
Saturday, Sept 26, 11pm: Deadline to join Patreon at "Early Access" Level to vote.
Saturday, Sept 26, 11:59pm: "Final Four" Poll Expires.
Sunday, Sept 27: Votes counted, Championship Post and Bracket prepared.
Monday, Sept 28, 3pm: Patrons sent ICRVN Bat-Madness "Final Four" results/"Championship" Preview.