ICRVN Presents: Bat Madness…Week Two!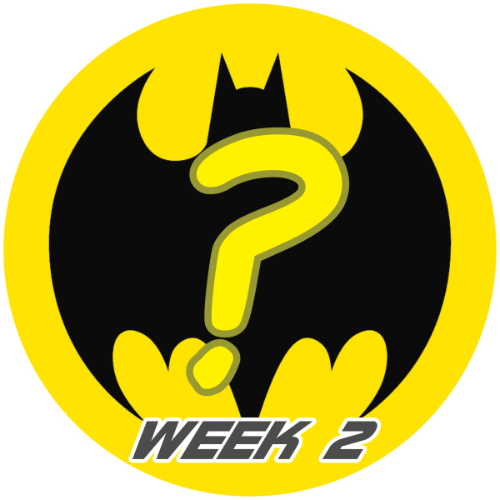 Same Bat-Website! Same Bat-Madness!
Last time on BAT-MADNESS!  Sixteen of the top Batman feature actors were pitted against each other to the favor of Patrons.  Who won?  Who lost?  Read on, faithful fans!
To recap, here were the initial 16 Bats:
Lewis Wilson, 1943: The first actor to don the cowl in the Columbia serial, Batman.
Robert Lowery, 1949: Played the hero in the second serial, Batman and Robin
Adam West, 1966: The famed TV Caped Crusader.
Olan Soule, 1968: Voice actor who voiced the hero over three decades.
Michael Keaton, 1989: Two films, and thirty years of nostalgia.
Kevin Conroy, 1992: The longest tenured Bat in the belfry, from the Animated Series.
Val Kilmer, 1995: One film, but maybe the most divisive of the Batmen.
George Clooney, 1997: A better Bruce than Batman.
Christian Bale, 2005: Three films, a lot of throat lozenges.
Rino Romano, 2005: Voiced a kidnapper in Batman Beyond, then Bats in Beware the Batman.
Diedrich Bader, 2008: Merged West and Conroy for Batman Brave and Bold.
Bruce Greenwood, 2010: Bats in Gotham by Gaslight and the Young Justice series.
Troy Baker, 2012: Bats animated films, video games; replaced Arnett in Lego productions.
Will Arnett, 2014: The highlight of – and only in – the Lego Movie.
Jason O'Mara, 2014: Donned the cowl for DC's animated features, continues to this day.
Ben Affleck, 2016: Tied to Zack Snyder – for good or bad.
And here were the initial "Sweet 16" matchups:
Bader (1) v Lowery (16)
Wilson (2) v Romano (15)
Conroy (3) v Kilmer (14)
Baker (4) v Bale (13)
Greenwood (5) v O'Mara (12)
Arnett (6) v Keaton (11)
West (7) v Affleck (10)
Soule (8) v Clooney (9)
First round voting – much like first round viewing in the NCAA – was light, but it was pretty much as expected.  In a couple of cases, however, my vote led to a tie.  So, in those two instances, I removed my vote.  Before getting into the Patreon Voting, let me tell you what my picks were.
ICRVN VOTES:
Bader Over Lowery: This one was tough.  I grew up watching the two Batman serials and the Superman serial before I saw Christopher Reeve, George Reeves, or Adam West, so honestly, Lowery, Wilson, and Kirk Alyn are my Batmen and Superman.  However, Diedrich Bader deadpanned so perfectly, blending Adam West and Kevin Conroy, that I had to pick him.
Wilson Over Romano: For the reason I mentioned above, coupled with the fact that Beware The Batman just never grabbed me, Lewis Wilson wins this round for me.
Conroy Over Kilmer: Do I really need to explain this one?
Baker Over Bale: Bale was okay, but I just did not like the Nolan films.  Mostly due to the writing.  David Goyer just doesn't understand what heroes are, and that really ruined the Bale Batman for me, far more than the silly voice.  Baker basically understudied Conroy, so I gave him the edge.
O'Mara Over Greenwood: This one was actually tough.  I have watched more of O'Mara's performances, and he does a very good job of taking what Bale tried to do vocally, but making it work.  Unfortunately, Bruce Greenwood, an amazing actor, is so obviously Bruce Greenwood that even though he is quite good…it is really hard to not watch and simply think of anything other than, "it's Bruce Greenwood."
Keaton Over Arnett: I remember being one of a few who didn't mind the casting of Keaton back in 1988, and thinking he did a good job.  I still think he was a solid Wayne/Batman.  While Lego Batman was funny and a highlight of the Lego Movie, Keaton was just better.  Plus Arnett is generally annoying.
West Over Affleck: I grew up with the serials, and soon thereafter local TV started showing the 1966 series.  The serials were fun, but I loved the technicolor series and all of its characters.  Affleck never had a chance.
Soule Over Clooney: I honestly don't think Clooney was that bad.  He was a better Bruce Wayne, to be sure, but the chaos of the film and the studio's interference meant he was doomed before the film began.  Plus, where West was iconic for years on TV in live action, Olan Soule was Batman's literal voice over three decades in Batman and Super Friends cartoons.
"Yeah, yeah that's nice." I hear you say. "But who did your PATRONS choose?!" They chose…
Diedrich Bader (1) Over Robert Lowery (16)
Lewis Wilson (2) Over Rino Romano (15)
Kevin Conroy (3) Over Val Kilmer (14) (Clean Sweep)
Christian Bale (13) Over Troy Baker (4)
Bruce Greenwood (5) Over Jason O'Mara (12)
Michael Keaton (11) Over Will Arnett (6)
Adam West (7) Over Ben Affleck (10) (Clean Sweep)
George Clooney (9) Over Olan Soule (8)
I removed my votes from the Greenwood/O'Mara and Soule/Clooney pairings to avoid ties (with my vote, there would have been an even number of votes).
Interestingly, there were only two clean sweeps, Kevin Conroy and Adam West. I wonder if those two will be our final pairing?
Only the voters will know for sure!  Remember, if you are an "Early Access" Patron to vote between Wednesday and Saturday!  The Poll will come though to you at 5pm Wednesday.
If you are not a Patron, you can join any time – at the Early Access level or above – up to 11pm Saturday to have enough time to vote in the active poll for the week.
Also, I will be giving a random voter an 8×10 commission, so make sure you stay a Patron through the end of October!
So, what are the resulting "Elite Eight" Bat Madness matchups?  Here you go!
Starting at 5pm today (Wednesday, Sept 16th), Patrons will be able to vote, so make sure to keep a lookout for that poll and let us know your favorite Batman!
And, of course, keep a lookout for the results at the SAME BAT-TIME, on this SAME BAT-SITE!
.
Forthcoming Schedule:
Wednesday, Sept 16, Noon: "Elite Eight" Post goes live.
Wednesday, Sept 16, 5pm: "Elite Eight" Poll Email Sent to Patrons.
Saturday, Sept 19, 11pm: Deadline to join Patreon at "Early Access" Level to vote.
Saturday, Sept 19, 11:59pm: "Elite Eight" Poll Expires.
Sunday, Sept 20: Votes counted, next Bracket prepared.
Monday, Sept 21, 3pm: Patrons sent ICRVN Bat-Madness "Elite Eight" results/"Final Four" Preview.