ICRVN Presents: Bat-Madness!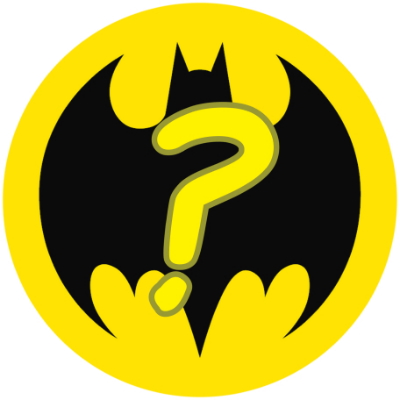 Recently a couple of sites re-posted their "Who is the Best Batman" poll, which was limited to a handful of actors to have portrayed the Caped Crusader. They all seemed to grudgingly include Adam West and/or Kevin Conroy, mostly to round out a full eight choices, or because the editor was older than 30.
These polls have a short memory, as most folks don't realize that Batman was the first DC hero to make the leap from comics to live-action film. (Well, until DC acquired Captain Marvel/Shazam, then technically the 1941 serial Adventures of Captain Marvel made Shazam their first, but I digress.)
Since 1943, Batman has appeared in 13 feature films as a main character, with many more animated direct release films, and at least a dozen animated and live action television series. Whether it is the lack of super powers that makes Batman an easier character to adapt to screen, or the colorful rogues' gallery of villains, Batman is, and always will be, a very popular comic book character to pull from for adaptation into film and television productions.
But, can it ever be truly said which is the definitive Batman?
Obviously, personal tastes prevail in this sort of discourse, but beyond that, we're gonna try and come up with the "Best Batman" here at the ICRVN. To begin, here are the 16 individuals who have portrayed or voiced the character since 1943: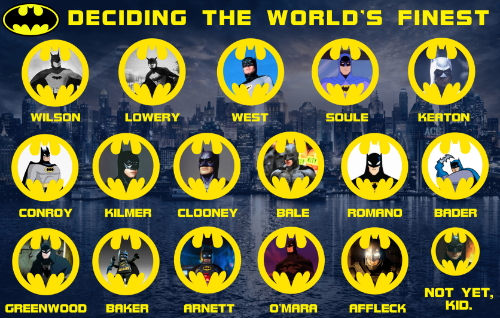 Lewis Wilson, 1943: The first actor to don the cowl in the Columbia serial, Batman.
Robert Lowery, 1949: Second actor to ever play Batman on screen in Batman and Robin
Adam West, 1966: Indelible for a generation and beyond, many believe he will always be the caped crusader.
Olan Soule, 1968: First appearing on the Adam West show in a walk on, Soule voiced the cartoon version in 1968, and in seven productions after.
Michael Keaton, 1989: Two films, and thirty years of nostalgia.
Kevin Conroy, 1992: The longest tenured Batman of the bunch, and the only openly-gay actor to play the character. Considered by many to the definitive Dark Knight.
Val Kilmer, 1995: Possibly the most divisive of the Batmen, but as with Clooney, it's hard to tell if it's the film or the actor.
George Clooney, 1997: A better Bruce than Batman, it's hard to tell what could have been, given the film he was in.
Christian Bale, 2005: Three films, a lot of throat lozenges.
Rino Romano, 2005: First voiced a kidnapper in Batman Beyond, then Spider-Man before Bats in Batman v Dracula (2005)
Diedrich Bader, 2008: While not as long lived as Conroy's Batman, Bader's left a mark combining Conroy's intensity and West's camp.
Bruce Greenwood, 2010: First played Bats in Under the Red Hood in 2010, also voiced Bats in two other films and Young Justice series
Troy Baker, 2012: Prolific voice actor has played Bats and Joker nearly equally in animated films and video games; replaced Arnett in Lego productions after Lego Batman movie
Will Arnett, 2014: The highlight of the Lego Movie, quickly garnering his own film spinoff.
Jason O'Mara, 2014: Before joining SHIELD, O'Mara donned the cowl for DC's animated features and continues to play the crusader to this day.
Ben Affleck, 2016: Tied to Zack Snyder and his vision of the character, so Affleck's Batman is another interpretation that is difficult to separate from the film.
That list was then ordered strictly by the year in which the actor first played the character. Then the names were plugged into a randomizer, and re-ordered into a list. Here is that list:
Diedrich Bader
Lewis Wilson
Kevin Conroy
Troy Baker
Bruce Greenwood
Will Arnett
Adam West
Olan Soule
George Clooney
10. Ben Affleck
Michael Keaton
Jason O'Mara
Christian Bale
Val Kilmer
Rino Romano
Robert Lowery
From that list, we produced a bracket to begin our challenge to find the definitive Batman.
Here are the pairings, in true "Sweet Sixteen" style, even with "Region" Groups:
Next Wednesday's ICRVN will reveal the results of these pairings.
I will be writing my thoughts, and vote, for each pairing. HOWEVER, my vote will be only ONE for the DEFINITIVE BATMAN vote.
Patrons (Specifically "Early Access"/$5 level Patrons at patreon.com/jrobertdeans) will be voting every week from Wednesday through Saturday to determine the DEFINITIVE Batman.
If you wish to vote and have your say in this contest, join the Patreon at the "Early Access/$5" level or above before Friday (so you have a day to vote), September 11!
Every Wednesday afternoon, Patrons will receive an email with a poll to vote featuring the given week's picks. ONLY Patrons will be allowed to vote.
But wait, did I say CONTEST? YES!
Every voter will be entered in a chance to win a 8×10 commission of their favorite Batman character!
AND…if you REALLY want to follow along, message me your picks before Saturday every week, and the person who comes closest to picking the voting outcomes of each week most accurately will also win a 8×10 commission of their favorite Batman character! (You must use my Facebook page, or the email function of this page's CONTACT page to message me, or if you are a Patron, message me there.)
So, join the Patreon for a chance to win some art and help pick the Definitive Batman, or just follow along and have fun debating the results in the comments (but, keep it clean, please).
.
Schedule:
Wednesday, Sept 9, 5pm: Poll Email Sent to Patrons.
Friday, Sept 11, Midnight: Deadline to join Patreon at "Early Access" Level to vote and be eligible in contests.
Saturday, Sept 12, Noon: Bracket picks due from Patrons competing in Commission Contest.
Saturday, Sept 12, 5pm: Poll Expires.
Sunday, Sept 13: Votes counted, next Bracket prepared.
Monday, Sept 14, 3pm: Patrons sent "Elite Eight" results ICRVN Post Preview.
Wednesday, Sept 16, Noon: "Elite Eight" Post goes live.
.
Batman is a registered Trademark and Copyright of DC Comics