Santa Shakes' 2020 Holiday Shopping Guide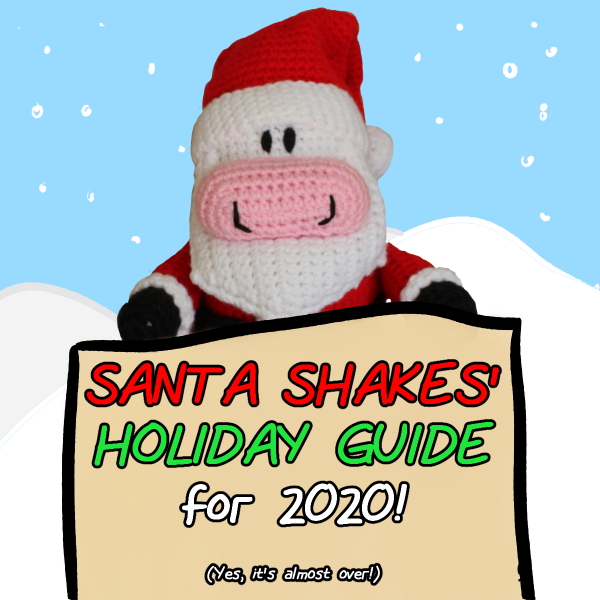 Hello Everyone!
Welcome to the Second Annual Santa Shakes Buying Guide!  Last year, we started off small by having three simple categories – films, books, and music.
This year, thanks to the pandemic, we are going to do things a little different and highlight creators over things.  These are folks that we would formerly promote as "Kidlet Approved" on social media.  They are still definitely "Kidlet Approved," but now they get the Shakes seal of approval as well.
Remember also when you are thinking about holiday shopping to think about your local independently owned restaurants and family shops.  Consider gift certificates and gift cards as gifts and stocking stuffers.  Monies earned now will help keep these places open during the holidays as we struggle through the next few weeks of wave three of the pandemic.  Things are looking good for a vaccine plan to start as early as the turn of the new year, but this year has hammered small businesses, and your patronage could help them survive.
Before we begin, a word about the format:  First will be a number of artists who offer commissions or artwork in their online shops.  Second will be a list of fellow creators who have Patreon pages which you can support.  Third will be a list of books which will all be available from our Bookshop Affiliate page.
Let's get to it!
These are artists, writers, creators and artisans who have their wares and offer commissions and original artwork from their ONLINE SHOPS. These are also friends and members of our "Comics Family," and we are fans of them all!

ArtNerrd – Rodney Roberts is a talented artist and designer who is best known for his contributions to Topps Trading Cards, especially their Star Wars series.  Rodney posts regularly on social media, and now has a shop where you can get his designs on apparel.
Claire Connelly – Claire is a fantastic artist with a quirky and unique style that grabs you and draws you into her short stories.  She is a multi-award-nominated creator for her collaborations with writer Erica Schultz.
Luke Daab – Luke is a designer out of the Chicago area who can handle a myriad of styles, all of which pop with his special sense of humor.  Luke's art and designs are available on prints, apparel, and in a new book, the Adventures of Luke and Lunchy.
Dawn of the Thread – Two young overcaffeinated "Embroidery Geeks" who create bags, totes, cases, and face masks.  They have an Etsy store, but at the moment they are working very hard to keep up with orders from brick-and-mortar stores in their local Northern Virginia area, but you can contact them for commissions and special orders.
Immortal Fire Art – Formerly known as SteelBrooks Crafts, Henry Brooks is a very talented pyrographer who JUST opened up his own Etsy store with a small number of pieces.  He is available for commissions including wood-burned artwork on keepsake boxes, plaques, or even custom wooden cosplay weaponry.  Check out his new Etsy shop and reach out for more.
Shing Khor – Known as SawdustBear, and recently thrust into notoriety for creating the Gritty/Four Seasons Landscaping tee-shirt which has raised over $150,000 for Georgia voting rights charities, Shing is an amazing artist, writer, and sculptress with a wild imagination. And even greater sense of humor.
Meany Mena – After a long period of not touching a pencil, our friend Mena picked up some colored pencils and got back into the groove, and is now selling prints and stickers of her work.
Jacques Nyemb – Writer Nyemb is a fellow self-publisher who has written short stories, comics, and children's books in nearly every possible genre. Currently (as of November 2020) there is a special on the entire collection of books in digital PDF for just $10.
Sina Ouerghi – A young DC area animator and artist, Sina specializes in small, adorable pieces with a bit of a wild sense of humor, mixing anime and burlesque sensibilities, coupled with a Renaissance flair and a hint of futuristic design.  All in colored pencils and watercolor.
Rich Woodall – Rich is a writer/artist/self-publisher who is probably best known for his horror comics and imprint, Electric Black, and his creator owned books Johnny Raygun and Kyrra Alien Jungle Girl. Rich is also part of the group our family simply refers to as "Team Ringo," the small group of creators who are tied to the legacy and family of Mike Wieringo we see every year at Baltimore Comic Con, and whom we regard as family.
Thom Zahler – Thom is also a tall artist.  He also is the only other writer out there I would be okay with writing a Thin Man comic if I couldn't get the gig.  His Love and Capes comic is Superman for folks who wish the comic focused more on the Kryptonian's personal life.  Thom is a master at dialogue and characters, and his work never fails to entertain.  He may be best known, however, for his work on My Little Pony.
These are more creators we know personally and can vouch for who also have PATREON MEMBERSHIPS. Many offer annual memberships, and by joining one (or more) creators' Patreon accounts at the holidays for a year or longer is a great gift of support to the creator, and depending on the levels you pick, you get gifts throughout the year yourself, in the form of art, comics, cartoons, or more - a win-win!

Joel Carroll – I met Joel at Heroes, and his work is wonderful.  He posts regularly to his Patrons with lots of great artwork from his sketchbooks, and is always available for commissions.
Steve Conley – His Patrons get early access to his comic The Middle Age, as well as special goodies when he runs Kickstarters to print the annual collections of his work.
Jamie Cosley – a longtime friend and collaborator, Jamie is running a new comic strip exclusively through Patron, BlueScar, a parody of Conan as only Jamie can make it.
The Dreamland Chronicles – If you caught Animal Crackers on Netflix (and if not, why not?), then you'll want to get on board with this fantasy strip, also written by Scott Sava, which emails new pages directly to Patrons every week.
Mike Hawthorne – Former Deadpool and current Daredevil artist Hawthorne is also a teacher of art, and even at the lowest level, his Patreon is a wealth of art and instruction that cannot be recommended enough for fans of comic art or those looking for help improving their art skills.
Jamar Nicholas – My friend, mentor, and creator of Leon the Protector of the Playground gives you lots of content including artwork, sketch cards, and interviews with industry folks.
Shawn Pryor – Shawn is a talented writer who posts sneak peeks of upcoming comics and books, plus podcasts and the occasional bit of history of Hip Hop culture, plus digital copies of his work.
Craig Rousseau – Marvel and DC artist Rousseau is working on his creator owned book The Perhapanauts with friend Todd Dezago, and he regularly posts progress artwork to his Patreon, plus warm up sketches and other work exclusive to his Patrons.
Emily Swan – Emily teaches artwork virtually, and through her Patreon you also get access to a special Discord server, along with sketches, works-in-progress, exclusive artwork, and even one-on-one portfolio reviews.
Mayday Trippe – Longtime artist and teacher Trippe is creating a brand new strip just for Patrons, along with behind-the-scenes access, sketchbooks, and "first chance" access to commissions and sales.
These friends are amazingly multi-talented, and have several outlets of creativity for you to check out, including artwork, books, and music!

Cuddles & Rage – Also known as Liz & Jimmy, Cuddles and Rage produce amazing miniature diorama stories for both print and video.  Jimmy writes and produces all of their music, and on top of all they, they write and draw comics too!  A lot of their stuff is family friendly, and the rest, well, is Addams family friendly.
Mariano Bros – Mark and Chris Mariano write childrens books, Mark draws the books, then Chris produces multimedia productions around them, and that's on top of their side-gig as rock and roll band The O>Matics.  A few O>Matics tracks still exist on Bandcamp, but if you look on Amazon you might find their albums!  In the meantime, find their great children's books on their site!
Adam Wallenta – Adam used to be known by the monicker Illus (as in, "Illustrator"), when he was an up and coming rapper on the indie circuit.  Shifting gears to have a family, Adam still raps (he has an extensive catalog on Bandcamp), but now he continues to illustrate – but graphic novels.  Most notably, the Ringo Award-winning Punk Taco, which he wrote with his young son, Makana.
These books were previously reviewd on the ICRVN, and are perfect for young ones on your gift list!

A Beagle of Mars, Jason Cooper (W) and Robert Pope (A) – Snoopy travels to the Red Planet while searching for a lost family member!
InvestiGators, John Patrick Green, (W/A) – Mango and Brash are two top spies for SUIT in this delightful and silly series of spy adventure graphic novels for ages 6 and up!
Max Meow: Cat Crusader, John Gallagher (W/A) – Meowza! With a single word, reporter Max meow turns into the Cat Crusader to protect citizens from criminals all over the world!
Superman Smashes the Klan, Gene Luen Yang (W) and Gurihiru (A) – This award winning graphic novel adapts a classic radio story in which Superman – still new to Metropolis – shatters a group of racist thugs terrorizing an Asian family new to the neighborhood.
Unplugged and Unpopular, Mat Heagerty (W) and Tintin Pantoja (A), Oni Press – Heagerty's fun and wild debut graphic novel for ONI is a typical story of middle school popularity turned on its ear when the real reason everyone is addicted to their screens has dangerous repercussions!
Buy these books and more via our Affiliate Shop link at Bookshop.Org
(Full disclosure: Purchases made through the above link to Bookshop.Org results in a small
stipend for us at DFP which helps to pay for our internet costs.  Thank you in advance!)
And there you have it!
The Santa Shakes' Holiday Buying Guide for 2020!
Thank you in advance – we know all our friends will appreciate your support as much as you will appreciate their creative work and talent.
If you need one more recommendation, how about THE HONEY DON'T CASE: A BEAR FROM AUNT ADVENTURE, by Shakes' creator, J. Robert Deans?  (How's that for subtle?)
Stay safe and have a Happy Holidaze!