A Community Woven Together For A Cause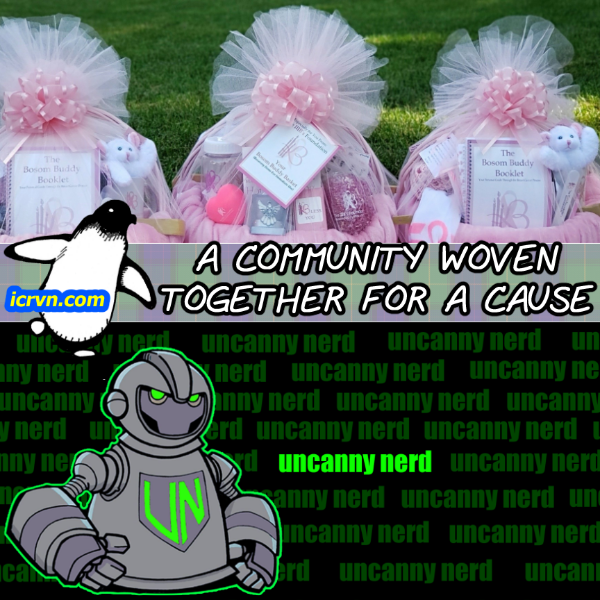 We are lucky to be a part of a community of creators generally referred to as the "All Star" family, in reference to a pair of conventions held a couple of years ago in the Northern Virginia area.  That family includes some creators that span a wide variety of talents, including fabric artists, painters, trading card artists, and even media critics/game streamers.
While the conventions have ended, the family remains: a small, tight-knit group that has spent the better part of the last few years making sure we are all doing okay.
Recently, one of our own revealed that their wife was diagnosed with breast cancer.
Rodney Roberts, Marvel and Star Wars artist and "Meanwhile at the Podcast" co-host talked about his wife Jennifer's diagnosis and what it meant for his wife, their children, and his family in general.
The first procedures to ensure Jennifer quickly and safely emerges cancer-free was a mastectomy.  After the procedure, Jennifer received a gift basket from IIIB, or Bosom Buddy Baskets, a Northern Virginia based charity providing large gift baskets to breast cancer patients after mastectomy surgery which feature gifts that aid in both physical and mental recovery.
Uncanny Nerd will be helping to support the Roberts family and IIIB this weekend by running a 24-hour live fundraising stream in Jennifer's honor.  The stream will be running simultaneously on the Uncanny Nerd TwitchTV and YouTube channels.  Uncanny Nerd began a few years ago as duo Mike Slade and Warren Varney with movie and comic reviews, interviews, and commentary.  Recently, the pair took a hiatus, and relaunched the brand adding team members Brandon Pyle, Mari Winterbottom, her sister Aria, and most recently Jared Newton, as the brand added streaming gaming and more to their channel's offerings.
Thanks to the All Star family, participating in the event will be such notable nerds as Star Wars actor Greg Grunberg, Ming Chen of AMC's Comic Book Men, Marvel writer Ethan Sacks, 90s X-Men cartoon showrunners Eric & Julia Lewald, Gotham actress Adrienne Lovette, and SHIELD actress Valery Ortiz!
Breast cancer – cancer in general – is no joke, but to have to deal with it during a pandemic adds an extra level of stress and pressure no one should deal with.  IIIB's gift baskets may seem like an odd gift to receive, but in times of stress one's mental health is just as important for healing as the physical.  In fact, it is well documented that a good mental health is imperative for faster and more effective recovery from surgeries, viruses, and colds.
IIIB was founded by a cancer survivor, and their intention is to help women not only defeat breast cancer, but do so with their dignity intact and their head held high.
Please tune in to the Uncanny Nerd's LIVE 24-hour Twitch stream at 8pm, Friday January 29, and stay tuned throughout the 24 hours for interviews, games, and more.  And please, donate during the stream for a good cause and help IIIB in their goals.  During the stream, sponsor Third Eye Comics will offer raffle prizes to those whom have donated during the event.
If you wish to help the Roberts family directly, visit shop.spreadshirt.com/artnerrd and purchase one of Rodney's "HOPE" designs on tee-shirts or hoodies.
Tentative schedule of events for Friday – Saturday:
UNCANNY NERD TWITCH STREAM BENEFITING IIIB
Sponsored by Third Eye Comics
ALL MONIES GO DIRECTLY TO IIIB!
FRIDAY, January 29, 2021
08:00p-08:30p – Opening Ceremonies with Greg Grunberg
08:30p-10:30p – Party Games (and informal Q&A) with writer Ethan Sacks
10:30p-12:30a – World of Warcraft live game with Aria
SATURDAY, January 30, 2021
12:30a-03:30a – Call of Duty live game with UN Team members Slade, Warren, Mari, and BP
03:30a-05:00a – Magic the Gathering live game with Slade and Warren
05:00a-07:00a – Destiny live game with Jared
07:00a-09:00a – Overwatch live game and Coffee with Mari and Aria
09:00a-10:00a – Live Sketching with BP, Warren, Adrienne Lovette, and More
10:00a-12:00n – Ranking the Top 10 Animated DC Movies of All Time with Loading Snacks & BP
12:00n-01:00p – Podcasting 101 live panel with Ming Chen
01:00p-02:00p – Live The Witcher Cosplay Sword Build Demonstration with BP
02:00p-03:00p – Interview with X-Men Animated Series Showrunners Eric & Julia Lewald
03:00p-04:00p – Live Sketching with Kevin Bednarz (NoVa artist and businessman)
04:00p-06:30p – Live RPG with Valery Ortiz (Game TBA)
06:30p-07:30p – Among Us live game with The UN Team
07:30p-08:00p – Closing Ceremonies