MooseLambs
The MooseLambs debuted first as a toy with Spicey the MooseLamb. Followed quickly by the book, "Spicey's Tale" which told the story of how MooseLambs came to be. Shortly after, her cousin's story was told in "Sundaes In the Park With Sprinkles." The MooseLambs are Grand Punwick's only wholly indigenous creatures, and do not live anywhere else. They are particularly fond of the ideas of love, kindness, and honesty. And ice cream.
The MooseLambs are featured in storybooks written by their creator, Elinda Deans, with illustrations by J. Robert Deans. Each book features the story of a different MooseLamb, and addresses such topics as blended families, mixed marriages, immigration, racism, sexism, gender equality, and sexual equality. These topics are shown as normal, thru characters to be loved and embraced, in hopes of reversing a societal stigma and fear that exists for some that unfortunately believes they are superior to others.
In "Spicey's Tale" we meet Spicey and find out how her parents met, and what happens when a happy lamb and an unhappy moose meet.
Sundaes In the Park With Sprinkles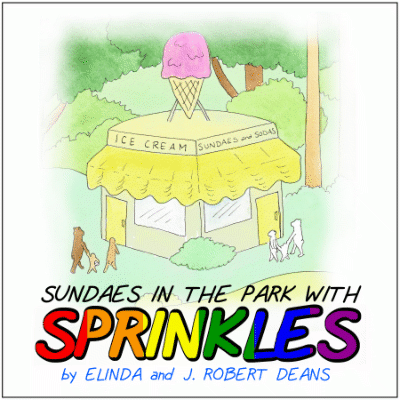 In "Sundaes In the Park With Sprinkles," we meet Sprinkles' parents as children, who meet over ice cream after playing in the park.
Want your own copies of the MOOSELAMB books? Use the buttons below to buy from our BOOKSHOP.ORG affiliate page (which helps independent booksellers) or get Signed and Sketched copies direct from us!
Downloadable coloring and activity sheets featuring Spicey and Sprinkles!
A Series of sample pages from THE MOOSELAMB series of books!
Adopt your very own
MOOSELAMB!
Show your love for love on your shirt!
Get your MOOSELAMB wear today!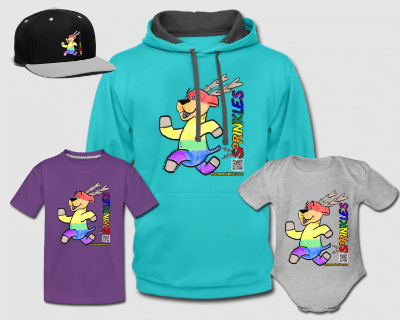 Stay up to date on all of our MooseLamb news by clicking on the button to the right to get on our regular Email Newsletter List!