Stanley
Stanley first appeared in the chapter book The Bear From AUNT: The Honey Don't Case, in which Stanley has to solve the mysterious disappearance of the world's honeybees. Inspired by a favorite film of both Robert and Elinda, Robert based the idea on one of his favorite TV series.
"If you like animals, spies, and puns, then get your paws on The Bear From AUNT!"
– John Patrick Green, New York Times best-selling author of InvestiGators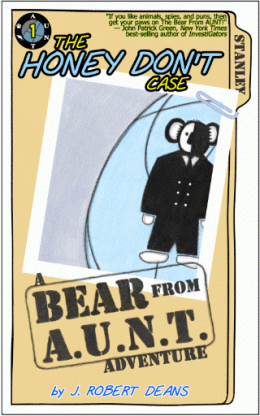 THE HONEY DON'T CASE: A BEAR FROM AUNT ADVENTURE celebrates the 5th Anniversary of Stanley's creation with an all new version of his original adventure!

Expanding the original 2015 adventure with all-new artwork and a story to over 25% more (and hopefully better!) story than the original, this volume brings Stanley to a new audience as well as enriching the adventure for original fans.

Stanley investigates the mysterious disappearance of the world's honeybees, while getting used to a brand new partner assigned to him by the Director. Can Stanley and Marco find enough common ground to solve the case before the world runs out of honey?

The Honey Don't Case: A Bear From AUNT Adventure is a 5x8, 222 page paperback with over 50 black-and-white illustrations for $14.99 retail. Available wherever books are sold. ISBN 978-1-943348-20-6
FULL DISCLOSURE: We receive a small percentage of every sale made through our affiliate link at BOOKSHOP.ORG, which helps to pay our internet costs. Thank you in advance!
Free activity pages you can download and print for your Kidlets to color featuring Stanley and his friends from the Animal United Network Taskforce

A.U.N.T. is an elite organization, and Stanley is just one of its many agents and specialists. Here are a few of the many characters you will meet in the BEAR FROM AUNT series!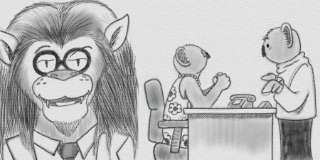 Leo was the Director of AUNT when Stanley was an agent.  A private detective before becoming an agent, Leo was responsible for recruiting Stanley.  Hortie is Leo's assistant, and also happens to be Stanley's actual Aunt.  She is the most respected (and feared) individual in all of AUNT.
Marco became Stanley's partner in THE HONEY DON'T CASE, on loan from AUNT's counterparts in Furmansk.  He is a no-nonsense Panda.  Tyler wanted to be a race car driver, but was recruited by Leo to be an agent.  An accident cut short his training, and now he's AUNT's best pilot.
Frank runs AUNT's science and Computer labs, or "The Braintrust."  Stanley likes to remind him that he is their literal "Lab Rat."  Cue is AUNT's other genius scientist, and develops all of the gadgets AUNT agents use.  She also creates the recipes for AUNT's barbecue restaurant cover.
Stanley and other AUNT characters cameo in some of SHAKES' books, and they also appear in the STEER YOUR OWN STORY books!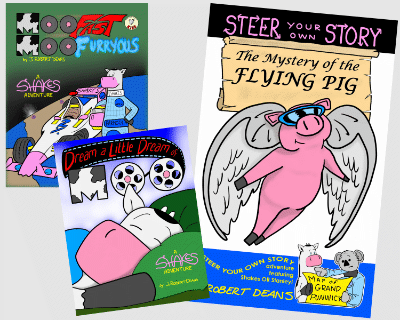 Wear your love for STANLEY on your sleeve!
Or, be like an OFFICIAL AUNT AGENT with your own AUNT gear!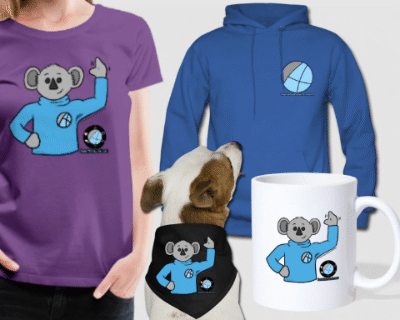 PREVIOUSLY in
THE BEAR FROM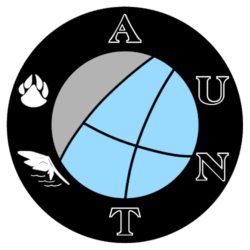 The previous series of THE BEAR FROM AUNT books are now out of print, but may be available at some book stores.

The books are being rewritten with bigger, more descriptive and engaging stories, and all-new art, all while maintaining the original Flesch/SMOG/Cloze/Linzear readability ratings.

To stay up to date on the release dates for the new versions, as well as upcoming new volumes, sign up for our monthly Email Newsletter!