SteerYourOwnStory
Inspired by the "Choose Your Own Adventure" books from the early 1980's, STEER YOUR OWN STORY is a new series of solo adventure game books featuring the characters from all of the Grand Punwick books and stories! Older readers who have delighted in the adventures of Shakes, Stanley, the MooseLambs and more can now BE their favorite characters and solve mysteries or go on adventures just like Shakes, Stanley, Percie, and more have done!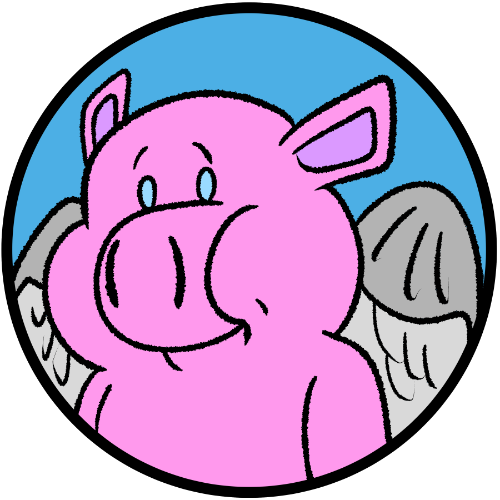 Is Chrys a real flying pig...or just a balloon?
Find out when YOU
Steer Your Own Story!
STEER YOUR OWN STORY 01:
The Mystery of the Flying Pig
Rumors of a flying pig are all over Grand Punwick, and YOU get to choose whether or not to solve the mystery! Pick your character, and then STEER YOUR STORY during the course of your investigation and find out if the Mystery of the Flying Pig is real…or just a rumor!

To celebrate the inaugural book in the series, and Shakes The Cow's fifth anniversary, readers can choose to be either bovine adventurer Shakes the Cow or superspy koala Stanley, the Bear from AUNT and solve Grand Punwick's latest mystery!

A 192 page paperback. 50 B&W illustrations. $12.99.ISBN 978-1-943348-18-3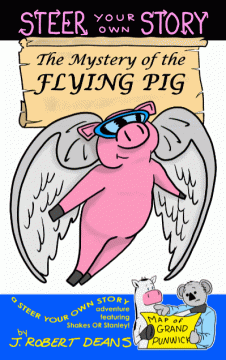 Want your own copies of STEER YOUR OWN STORY books? Use the buttons below to buy from our BOOKSHOP.ORG affiliate page (which helps independent booksellers) or get Signed and Sketched copies direct from us!
The NEXT volume of STEER YOUR OWN STORY is in the planning stages, and is expected to be published in early 2021! Stay up to date on this series and ALL of our books and works by signing up for our monthly Email Newsletter!
By the way...

Of COURSE Chrys is real!

Look!

You can even adopt your very OWN Chrys!