DFP's October Schedule:
No Morning's Mild for Us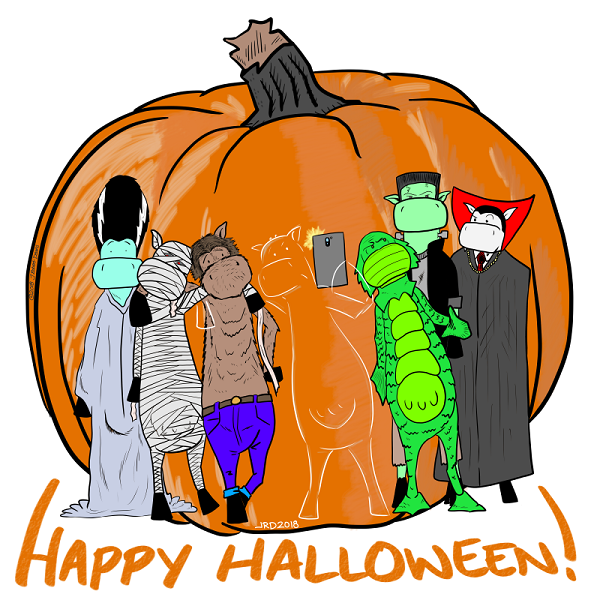 The DFP Appearance Schedule has turned October into a bit of a Whirlygig!
Starting with Thursday, October 3d at 6:30pm, Robert will be appearing on the Ye Grumpier Ol' Nerds web show to talk about how he creates his books, and about his latest book, MYSTERY OF THE FLYING PIG: A STEER YOUR OWN STORY ADVENTURE.
Then, DFP will be tabling at the inaugural Comic Con For Kids at the Greater Philadelphia Expo Center in Oaks, PA, October 12th and 13th.  Also there will be fellow Kids Love Comics cohorts The Mariano Brothers, Jamar Nicholas, Dawn Griffin, and Chris Flick.
The following weekend is Baltimore Comic Con, one of our favorite events of all!  We will be in the Kids Love Comics pavilion, with all of the folks mentioned above, plus others like John Gallagher, Jamie Cosley, Dan Parent, Gregg Schigiel, John Patrick Green, Franco, Chris Giarrusso, and many more!  Baltimore starts Friday afternoon, October 18th, and runs through Sunday October 20th.
And then we wrap up our "Who Needs Weekends?" tour with an appearance at Northern Virginia's finest shop, Comic Logic, to celebrate HalloweenFest 2019!  Starting at 11am on October 26th, there will be free comics, a costume contest, and other local creators including Jena Ayoub!
We will have a few copies of "old favorites" with us, but our largest stock will be of the latest books LA MOO DU CHOCOLATE, SUNDAES IN THE PARK WITH SPRINKLES, and Steer Your Own Story: MYSTERY OF THE FLYING PIG.  We will also have an exclusive toy debut at Comic Con For Kids, given the Philadelphia location, which if you paid attention to the 2019 superhero films, you should know which hero it will be.
If you want to have commissions done by either Robert or the Kidlet larger than 6×8, please contact us via the popup button below, or use the Contact page to order those commissions in advance, as slots are limited!
All of the products debuting at these appearances will be available for holiday ordering from our web shop on November 1st if you cannot make it to any of these shows.
We look forward to seeing you all there!
Cheers!
~DFP