About Us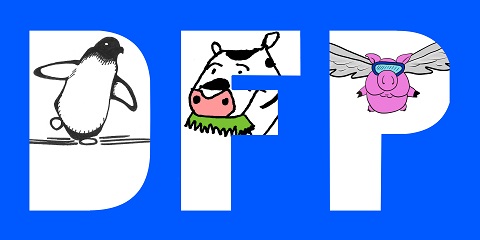 In 2014, Robert was laid off after a nearly ten-year career selling comics in which he noticed how little companies were paying attention to young readers. The very next day, an idea struck in the form of Shakes The Cow. A few months later, in 2015, Robert created and published his first book, MOO THOUSAND AND PUN under his own imprint, "Crass Fed Kids." Later that year he would also publish the first in the Bear From AUNT series, The Honey Don't Case, and a comic with the Kidlet, The Mighty Hippofartamus. Elinda would publish her first cookbook, CON GRUB, and it soon became clear that the Crass Fed Kids imprint was not sufficient to cover an entire family's creative endeavors. DEANS FAMILY PRODUCTIONS was born.
In the few years since then, Shakes The Cow and The Bear From AUNT have gone from single books to full-fledged series. Development on Elinda's cookbook follow up has slowed as she creates hand-made toys based on the DFP characters, including two she created: Spicey and Sprinkles, the MooseLambs. A sequel to Hippofartamus has debuted with more ideas for the future, and the MooseLambs have spawned their own series of storybooks.
We cannot imagine slowing down any time soon.
Creating characters and stories that delight readers of all ages has become our passion. We care about our characters and our products, and will always choose quality over speed. When you buy a DFP product, or hire us for your project, you can rest assured you're getting the best quality and the best value for your hard-earned dollar.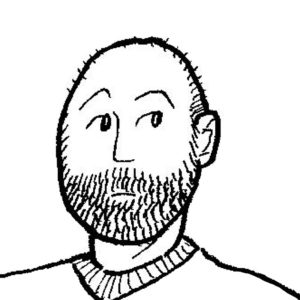 J. Robert Deans is an artist and writer who started "professionally" with his CRASS FED web comic in 2012.  He is the creator of the SHAKES THE COW series of children's picture books, and the BEAR FROM AUNT series of spy-parody mystery graphic novels for young readers which feature the koala spy, Stanley.
Learn more about Robert, his works, and availability for your projects at jrobertdeans.com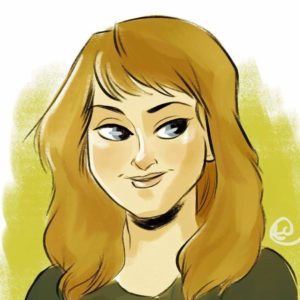 Elinda Deans is the founder of FLYING PORK PRODUCTIONS, a recipe blog that features family favorites and restaurant remakes.  Elinda created the Chrysaur the Flying Pigasus character for the FPP logo, which often appears in Deans Family Productions (DFP) books as an easter egg.
A lifelong crafter, Elinda creates and manufactures the adorable toys based on DFP's many crazy characters and their fun "Cowsplay" variants.  Having crocheted since childhood, she is able to make hard work look effortless, producing toys of great quality and huggable appeal.
Recently, Elinda created the Spicey The Moose Lamb character, after a rather ridiculous late night comedy sketch lampooned DC politics.  The idea was too perfect not to include in the Grand Punwick universe, so she and Robert wrote the story, and SPICEY'S TALE was born.  Other characters in Spicey's neighborhood include Sprinkles, Mole, and Bailey.
Elinda is a skilled recipe developer as well, having created an entire cookbook of snacks designed to help convention goers keep themselves fed with healthier (yet still delicious) treats while exhibiting or attending conventions.  She is slowly developing recipes for a sequel to CON GRUB while also relaunching her FLYING PORK website.
Elinda is available for all manner of toy work, from prototype development, to manufacturing, to basic design. Use our Contact form to inquire about her availability for your next project!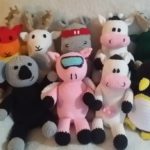 Elinda hand-makes every toy for DFP and our clients.  She uses hypo-allergenic yarns and fabrics, and each toy is fully lined, so that when cleaning is required, all you have to do is run the toy through a gentle washing machine cycle!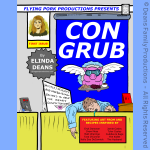 Elinda's first cookbook is full of recipes that can be made ahead and packed for a short or long stint at a convention.  Tasty and healthier than anything concessions has to offer, the recipes in CON GRUB will keep you going!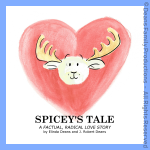 Elinda's first storybook, written with her husband Robert (who also provided illustrations), is a companion to the Spicey toy.  In the book, we find out what happens when a sad moose and a happy lamb meet.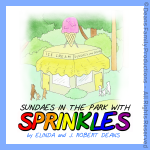 Sundaes In The Park With Sprinkles
Elinda's second storybook, illustrated by Robert, also has a companion toy.  Ice cream has been known to mend a broken heart, but can it bring two hearts together?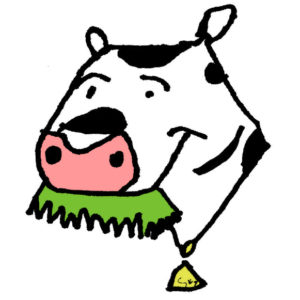 Sam Deans is navigating the waters of middle school while dealing with parents who keep reminding her that homework comes before drawing or writing.  For now.
An inability to wake up on time led to the creation of the Mighty Hippofartamus with her Dad, a second adventure of which debuted at the 2018 Baltimore Comic Con.  In 2017 Sam published a short story, Best Friends, about a group of friends inelementary school and all of the drama therein.
Sam has begun taking commissions as she works to improve and perfect her art skills.  If the growth curve continues apace, the future for DFP is bright indeed.
(Unless Daniel Ricciardo is knocked out of a race, or the Packers lose…then she needs a day.)
Samples of the Kidlet's Portfolio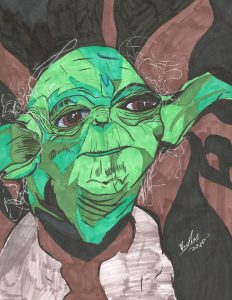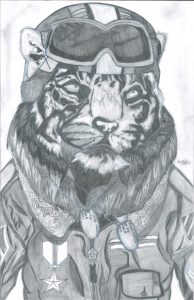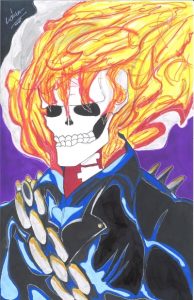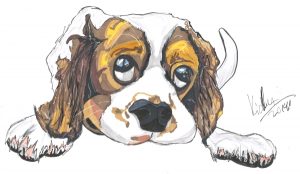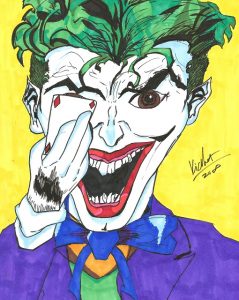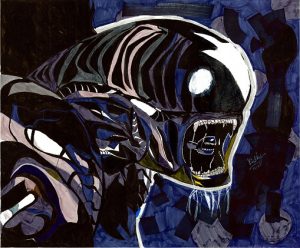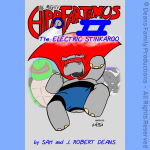 The Mighty Hippofartamus was created by Sam and Robert as a joke, as they strove to "keep it classy and gassy."  Hippofartamus recently returned in Hippofartamus 2 Electric Stinkaroo.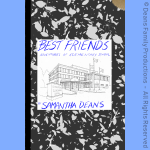 Inspired by a lot of unnecessary elementary school drama, Best Friends is Sam's first prose work.  It follows a group of friends and acquaintances as they navigate their final elementary year.