GRAND PUNWICK is the totally real, completely made-up world in which all of the Crass Fed Kids book characters live. Characters like Shakes the Cow, Stanley – the Bear From AUNT, the Mooselambs, and the Mighty Hippofartamus all call the Duchy of Grand Punwick home. The Duchy exists on an earth-like planet inhabited entirely by anthropomorphic animals who behave just as people do in our world. The stories told in Crass Fed picture books and chapter books take place all throughout the history of Grand Punwick, allowing our storytellers to entertain readers of all ages with funny and engaging animal stories that also reveal a little about math, science, history, and other topics that you might not expect in a book aimed at young readers. All Grand Punwick books are published under the Crass Fed Kids imprint by Deans Family Productions (DFP), which began in 2015 with the first Shakes the Cow storybook, Moo Thousand and Pun.
---
Following a layoff in 2014, Robert Deans was struck by an idea: a cow lost in space. That idea very quickly became his first book, the children's picture book MOO THOUSAND AND PUN, starring Shakes the Cow. Robert self-published the book under the imprint Crass Fed Kids, in June of 2015. A chapter book inspired by favorite spy series quickly followed, as did a cookbook written by Robert's wife, Elinda. Their then-second-grader Kidlet wanted to be included, and Robert helped her create her own comic book hero.
By Baltimore Comic Con of 2015, the family had four books to offer, and CRASS FED KIDS was no longer sufficient to accomodate everything the family was creating, so DEANS FAMILY PRODUCTIONS (DFP) was born. Since 2015, DFP has published over twenty children's books across five series, and adds to that total with at least two new books every year, with enough ideas for twenty more…at least! DFP also allows Robert and Elinda to tap into their decades of experience in retail, non-profit, legal, and commercial work to offer a number of services to a variety of businesses.

The Creators of GRAND PUNWICK
J ROBERT DEANS
J. Robert Deans has doodled all of his life. During his nearly ten-year career selling comics, he relaxed by drawing them, and started his own web comic. CRASS FED featured a cow, a penguin, a peculiarly sketchy style, and Robert's rather eclectic sense of humor. Less than a day after being laid off, a silly idea struck: a cow lost in space. That idea became the first in the SHAKES THE COW series of picture books for young children, MOO THOUSAND AND PUN. Mid-grade spy adventures followed with the original version of the BEAR FROM AUNT series. Since then, Deans has created a series of solo gamebook adventures – STEER YOUR OWN STORY, and serialized short stories inspired by 1940s mystery films, all of which are set in the very real and made-up land of Grand Punwick, where all of Deans' characters live (not just his head). Robert also regularly collaborates with his wife and Kidlet on various books, toys, and comics for their Deans Family Productions imprint, Crass Fed Kids.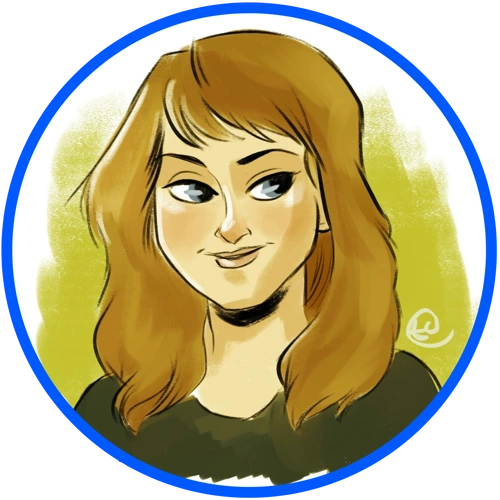 ELINDA DEANS
ELINDA DEANS' Deans Family Productions (DFP) role has grown dramatically since starting as Robert's cheerleader. Elinda has become a creative powerhouse of her own, having started in the late 2000s with her own FLYING PORK PRODUCTIONS recipe blog. Since then, she has become a cookbook author, and has created and is the writer of her own line of storybooks: The MooseLambs. Her FLYING PORK mascot, Chrysaur the Flying Pigasus, has even become a regular Grand Punwick character! However, Elinda's most notable creations are the amazing hand-made plush toys based on DFP's characters. Having crocheted since childhood, Elinda makes hard work look effortless, producing toys of great quality and huggability. (Although, if you ask anyone at HeroesCon or Baltimore Comic Con what her best creation is, they'd probably say it was The Kidlet.) Elinda is working on several MooseLamb book ideas, and planning a future FLYING PORK relaunch.

SAM KIDLET
Kidlet is a typical teen, when you make allowances for one raised by someone with her father's sense of humor. She started out in second grade when she wanted to join her parents in the writing and drawing game, so Robert helped her create her own comic book, The Mighty Hippofartamus. Since then, Robert has continued to aid her in creating Hippo's adventures, doing less and less work to guide Sam towards becoming a more complete comic creator. Kidlet is currently navigating the radically peculiar landscape of a post-high school/pre-college career in a post-pandemic/pre-endemic world. Her art career is also at a unique place, having been a sporadic one when time allowed to now an open book waiting to be written. Already showing an aptitude for coloring her father lacks, Kidlet has tried writing and painting, and is trying to find out which one fulfills the Marie Kondo edict – if any. Kidlet made a splash at Heroes 2022 with a spectacular Galactus piece, which has only reinforced her desire to seriously consider art as her true calling. Beyond that, Robert and Elinda are convinced Sam is really just a human bernadoodle puppy.

Buying CRASS FED KIDS / DFP Product
You can purchase most of our books anywhere books are sold. We recommend BOOKSHOP.ORG, an online shop that directly supports small businesses and Mom-and-Pop booksellers with a sustainability fund. There are a few books – like the Hippofartamus comics – that are not available globally that you can get at our various appearances or when we can make them available on our web store. You can also order toys via our contact page, but please be aware that there is a waitlist currently into 2024.
Buy CRASS FED KIDS / DFP books from Bookshop.org and help other small businesses like ours survive in the age of online megabox retailers!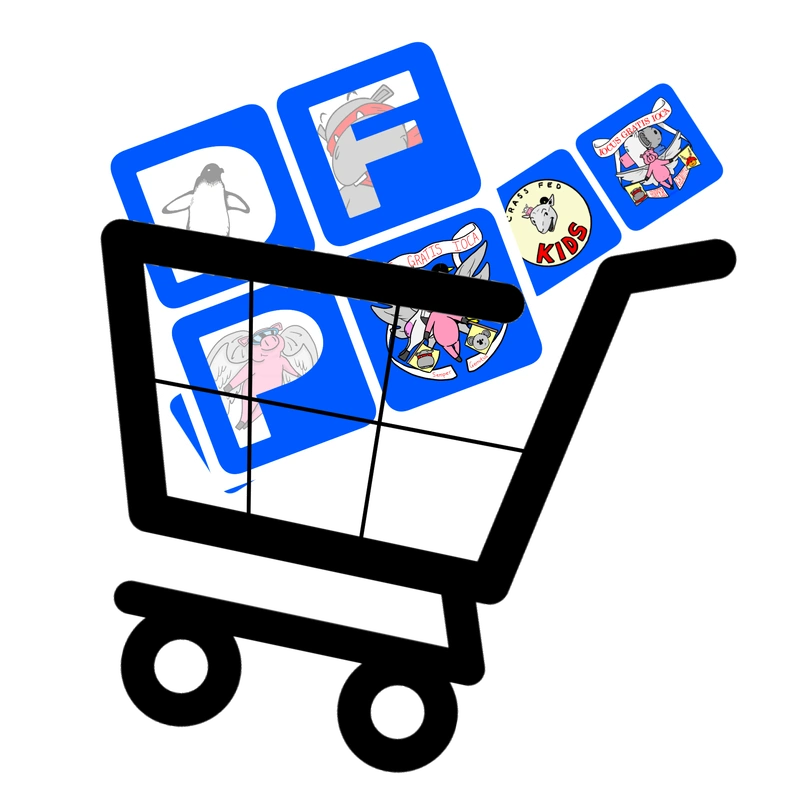 Visit our DFP Web Shop for special offers, unique and custom items, and the occasional sale! (Note: Store closes during appearance weeks.)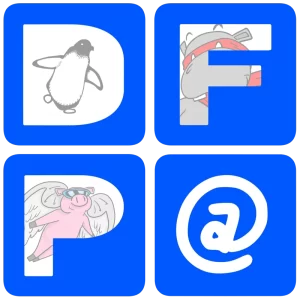 Use the contact page to get in touch with us for any questions or comments you might have, or to order a custom toy or artwork commission!

Keeping up with our antics projects…
There are three ideal ways to keep up with our work and projects. First is by using our DFP Links page, which is an aggregated page with all of our important links in one spot. These include social media links, our appearance calendar, and links to the various places where our product can be purchased. We also list our newest books there. Second is by subscribing to our eNewsletter, which we send out once or twice a month. In them, we let you know about sales, appearances, and new books, plus the occasional bit of goofiness. Third, and the method with the most potential access to our processes, is our Patreon. Our Patron members, or Pun Pals, support us directly and in return get access to far more in depth behind the scenes information than we share on any page, or in any eNewsletter. Pun Pals can also get free copies of our books in PDF, weekly chapters of Patreon-exclusive short stories, stickers, mini prints, original artwork, and more!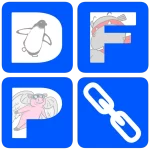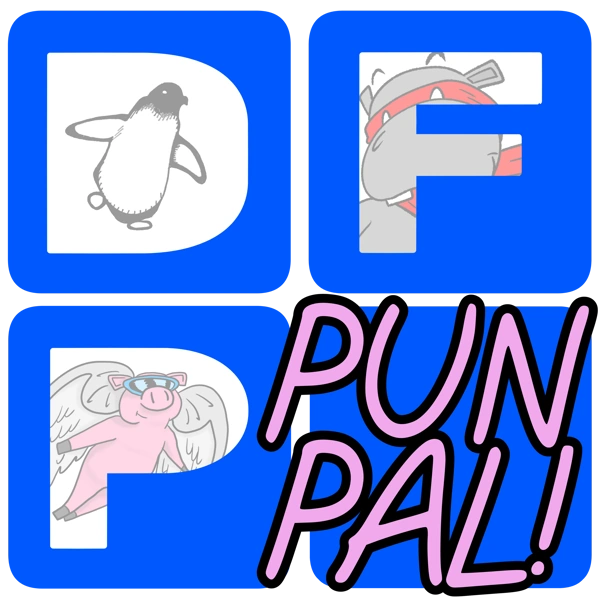 Deans Family Productions' Statement on PRIDE